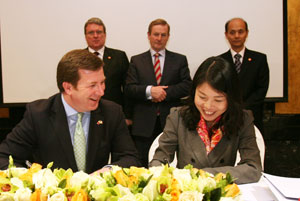 Pictured at the launch of the firm's China Programme in March 2012: (Front L-R) Julian Yarr, Managing Partner A&L Goodbody and Ms. Huang Jianwen, King & Wood Mallesons; (Back row) Taoiseach Enda Kenny with the Irish Ambassador to China, Mr Declan Kelleher and Mr. Luo Linquan, the Chinese Ambassador to Ireland.
A&L Goodbody's Chinese Lawyers Programme was launched in 2011 when the Firm welcomed its first set of Chinese lawyers on six month placements.
Through our programme, we have had over 60 lawyers from China in A&L Goodbody's Dublin office, working with clients and gaining on the ground experience from the Firm's international client base, global advisory partners and Irish state agencies involved in Chinese-Irish investment. During their time with A&L Goodbody, the Chinese lawyers have the opportunity to work in-house with high-profile companies and government agencies including: CRH; Pfizer; Icon; Davy; Bank of Ireland; Allied Irish Banks; GE; IDA Ireland and Enterprise Ireland. The programme also links up with Peking University and East Coast University of Politics and Law (ECUPL) Shanghai to welcome Chinese graduate students to intern in our office during the Summer.
Lawyers from A&L Goodbody have similarly gained experience working on secondment in the offices of Chinese law firms for periods of up to four months.
The Irish Taoiseach (Prime Minister) Enda Kenny, who launched the programme in 2012 in China, described it as "brilliant and pioneering". He also said: "As one of the world's most open economies Ireland relies on the vision and initiative of business leaders to identify and develop new areas of cooperation with international partners. I would like to congratulate A&L Goodbody for their enterprise and their courage in developing this programme which has the potential to take the business relationship between China and Ireland to a new plane in its development of a professional network which will benefit both countries."