---

---
Bold Ideas Student Innovation Award 2017
Now in its sixth successive year, Bold Ideas is A&L Goodbody's annual student innovation award. It recognises the most innovative ideas from undergraduate and postgraduate students from all disciplines. The theme for this year's competition relates to the promotion of Ireland as a global centre for data.
Promoting Ireland as a global centre for data
Ireland continues to attract record amounts of foreign direct investment due to our talent, tax base and track record. With the introduction of the General Data Protection Regulation on 25 May 2018 and the "one-stop-shop system", there will be further opportunity for companies to choose Ireland as an establishment for their data regulatory purposes.
It is important that Ireland continues to implement strong regulation to maintain its international reputation. What 'bold' ideas (business or legal) could the Irish government or industry use to promote Ireland as 'the' global centre for data and encourage businesses to establish here? Consider the introduction of the GDPR, the impact of BREXIT, and Ireland's reputation for foreign direct investment.
---
The prize
An Internship: A four week summer internship with A&L Goodbody Dublin.
€4,000 in cash: towards educational fees – or that college loan!
A charitable donation: Be part of A&L Goodbody's Step Up - Community Collaboration Programme. We will make a cash donation on the winners behalf to the charity of their choice.
The runners up will win an iPAD MINI.
---
How To Apply
Entries should be in written form, a short video or in any other format you want. Closing date for entries is Monday, 6 November 2017.
Written entries should be three to five pages in length and a video no more than 5 minutes long.
---
The Judging Panel
The ideas will be reviewed by a judging panel made up of a number of industry professionals. Finalists will be required to present their entry to judges on Thursday, 30 November 2017.
---
Winner 2016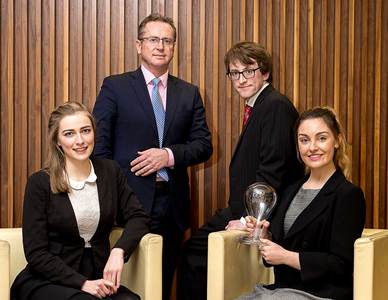 Pictured Front L-R: Anne Marie Geary (runner-up), John Whelan, Partner and Head of A&L Goodbody's International Technology Group (judge), Denis Flynn (runner-up) and Sarah McCarthy (winner)
We were delighted to announce Sarah McCarthy, a law student at University of Limerick, as the winner of the Bold Ideas Student Innovation Award 2016.
Sarah's winning proposal put forward the idea of establishing the Irish Fintech Investor Market (IFIM) which would connect Irish technology start-up businesses with established foreign financial companies, looking to make a low risk investment in Ireland.
Special mention went to runners up, Denis Flynn from Griffith College, and Ann Marie Geary from University College Cork who both received an iPad Mini. Entries were reviewed by our expert judging panel and we asked our friends on Facebook to vote for their favourite - thank you to all who voted.
Presenting her Bold Idea at a prize-giving event in A&L Goodbody's Head Office in Dublin, winning student Sarah McCarthy said,
"I'm absolutely delighted to win this award from A&L Goodbody. My bold idea is that the IFIM would act as an online tool to connect Irish tech start-ups with potential foreign investors. The start-ups and the investors would both be vetted and authorised by the IFIM. The investors can make an informed decision based on profiles of the start-ups and can choose to invest with them either online via Bitcoins or via direct communication."
As first prize winner, Sarah received €4,000 in cash and an internship in A&L Goodbody's Head Office in Dublin. The Firm also make a donation to a charity of her choice - Our Lady's Children's Hospital, Crumlin.
---
---