Summer Internship Blog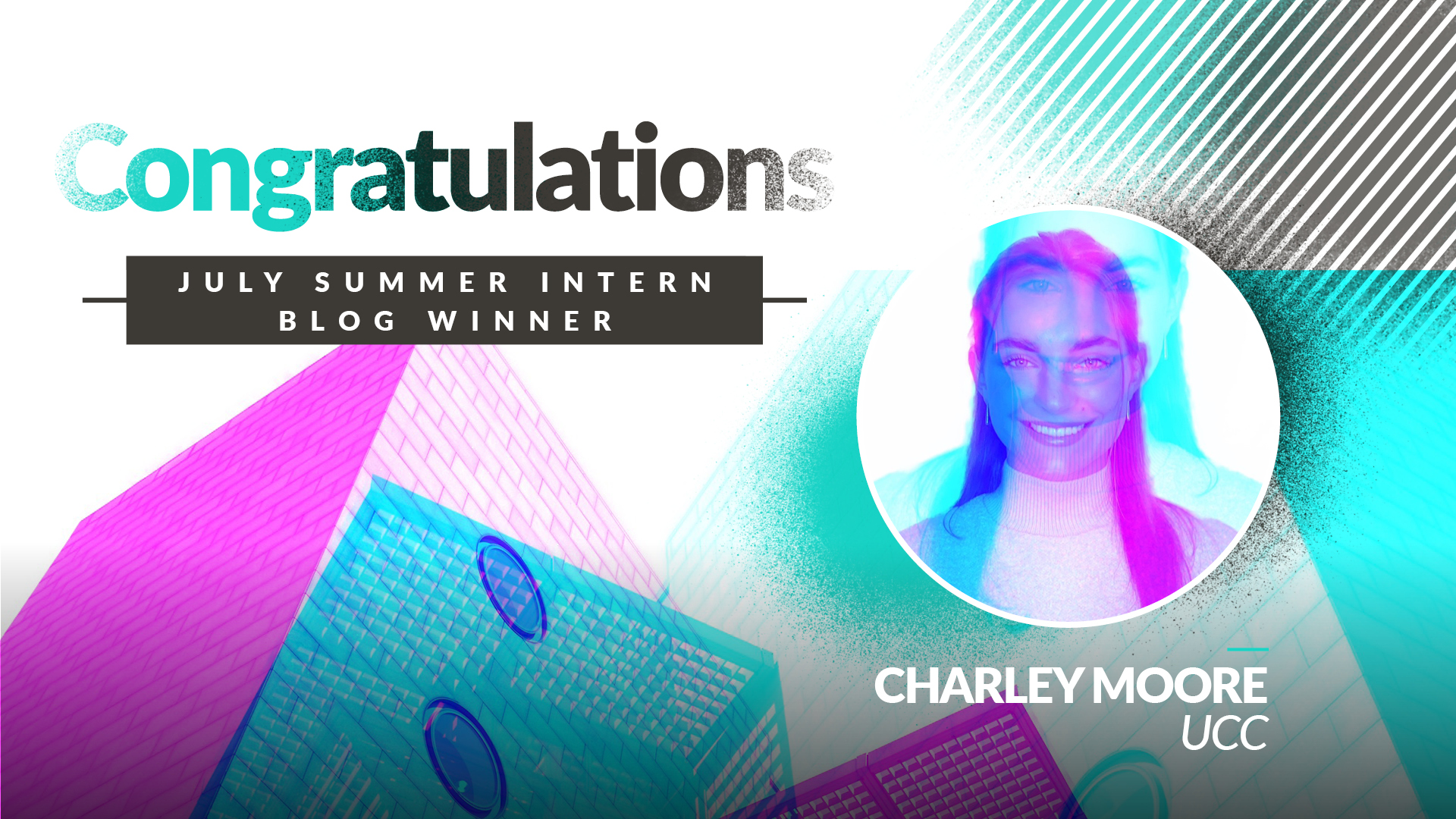 July Summer Internship Blog Competition winner
Our second virtual Summer Internship Programme finished up this July. 25 interns took part in our second SIP Blog competition and their internship experience over their two and half weeks with ALG. Congratulations to Charley Moore from UCC studying Bachelor of Civil Law (Clinical), our July Summer Internship Blog Competition winner.
Charley's three part blog creatively captured her highlights and learnings throughout her intern experience. You can view Charley's full blog below.
---
Week 1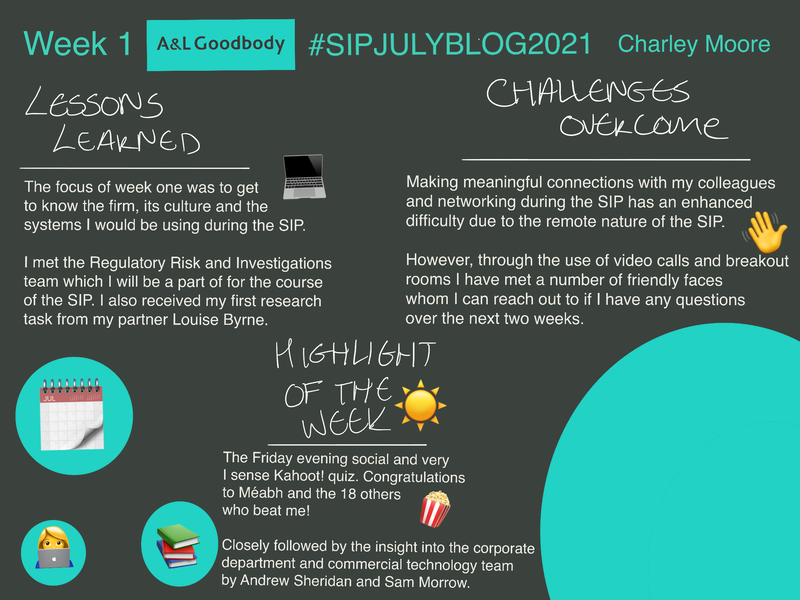 ---
Week 2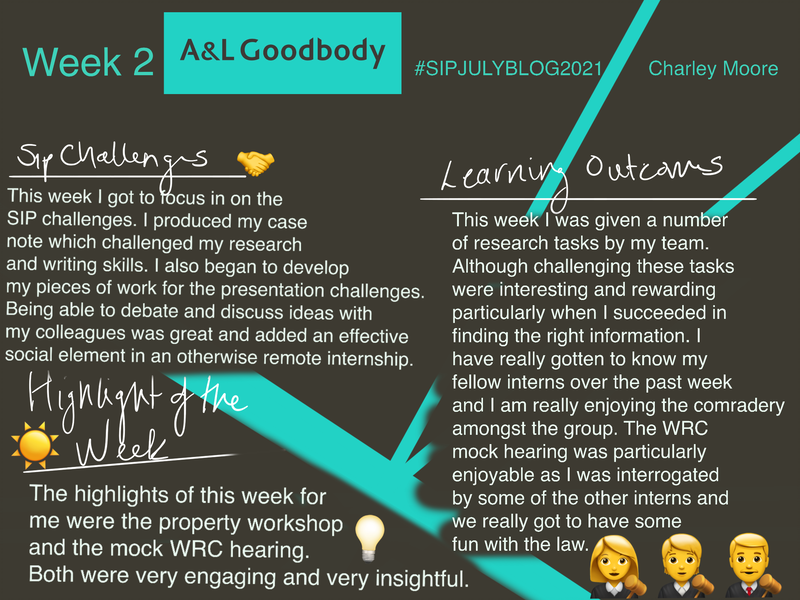 ---
Week 3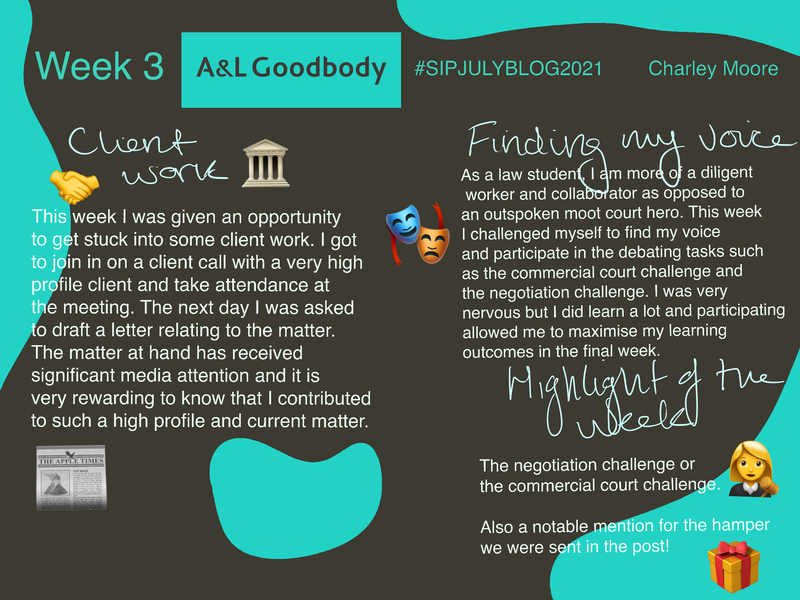 ---
June Summer Internship Blog Competition winner
We have just completed our first virtual Summer Internship Programme for the month of June. Our 23 interns took part in our SIP Blog Competition where each intern blogged about their experience over the last two and a half weeks. Congratulations to overall winner Aisling O'Riordan Walsh from Trinity College Dublin who is completing a Bachelor of Law degree. You can read Aisling's blog in full and learn about her experience and top tips on completing an internship below.
---
Hey SIPS 😊
So today, I thought I'd share my newly found insight on how not to be a #hackerbro.
As I opened up my zoom early Wednesday morning, lighting good and background clear, ready for my first day 'on the job' the feeling I experienced deep inside when I discovered that our cameras on our new laptops (the only view our new SIPS would have of us) were, in fact, at the bottom of the screen, as one of pure horror. As my chin took centre stage, I knew something had to change.
Deciding to dabble in #hackermode instead of facing my fear of crouching over my screen, I took the suggestion that 'camera's should be at eyelevel' and the problem that our upward gazing camera's posed into my own hands. At this stage I must point out that I needed a quick fix and was not prepared to spend any type of money on an external web camera.
Needleless to say, when I double flipped the screen, turned my laptop upside down so it sat like a tripod atop a stack of infrequently (if ever) used law books, and connected an external keyboard so that my camera was now at the top of the screen, I felt close to euphoric. I began to wonder why I wasn't part of the IT department, or further, if I should offer them my skills.
Despite this, my sense of glory was short-lived, when, on a call with a member of the IT department to add on some missing extensions to my laptop, the first comment that passed the very nice IT man's lips was "is your screen upside down?" So confused and bewildered was his tone that I sheepishly replied "yes, it is" and nothing further. I then had to attempt to reflip my screen (which let me tell you, is not easy when everything is upside down). I can only imagine that he was questioning who this crazy intern who looks at screens upside-down was. I was close to asking myself the same question when the entire first half of our phone call was dedicated to me rectifying my screen orientation.
I wish I could say this is a cautionary tale, but I can't. I still think my flip was truly a #hackerbro moment and I can only say that I am impressed with my setup. I can't even say that I will remember to flip my screen again (as it is now back to all its upside down glory) in case of another call with the IT department, because I think I am secretly hoping that they will comment on my ingenious idea and ask me to join the team. That, and the fact that I will definitely flat out forget.
Until next week SIPS, stay in #hackermode
Aisling 😊 #SIPJuneBlog2021
---
Look Mom, I'm making zoom friends!
Hey SIPS 😊
Coming into this internship last week, I was fairly confident that it would be a solo experience. With everything being online, my hopes for meeting people and actually making friends weren't just low, they were non-existent.
Everything going online has changed how we experience life so drastically. For me, the realization that being locked in my room all year meant that I hadn't met a new person or made a new friend in over a year was shocking. So, coming into this internship, the concept of making friends like you normally would while doing any sort of in person program or internship just didn't exist as a thought in my brain.
How wrong I was. I could talk about so many things in this blog post that stand out to me from this past week, like how funny I thought the WRC workshop was, or how I'm now trying to implement a night time routine off the back of our talk about high performance, but honestly the thing that stands out to me the most is how welcoming and friendly everyone on the program has been so far, from the SIPS, through to my team and my trainee buddy. I am fully convinced that I will have a Cork accent by the time this internship is over from the amount of time I spend on the phone with my trainee Sarah, and I'm okay with it.
Everyone is so used to zoom by now, and it shows. It shows by the way people are actually chatting in breakout rooms and small group meetings, rather than letting the crippling zoom silence that has dominated most of our lives for the past year fill the virtual room. I can only speak for myself, but everyone's friendliness over the past week, as people have gotten more comfortable with each other has made my experience this week so much fun.
On a more serious note, I have yet to start my case note, because I have been suffering from a serious case of procrastination. Also, my laptop is still sitting proudly upside down. My only issue is that whenever I turn it off, the screen flips back to normal, and then I have to go through the process of rectifying it again.
Have a great weekend SIPS!
Until next week, Aisling #SIPJuneBlog2021
---
Top Tips for SIPS 😊
Hey SIPS!
I honestly can't believe our time is almost over. (sad reacts only)
Although I can only say I am grateful to COVID for the amount of money I have saved by not buying flat whites over the past three weeks, it is with a definite feeling of sorrow that my summer blog comes to a close, as our internship comes to a similar, virtual end.
Today, for my last blog post, I'm going to share my #toptipsforsips that I wish my past self had known at the beginning of this internship.
Harping back to week one, I am still very much on the bandwagon of having the upside down laptop screen. I haven't changed it... I also haven't had any more problems with it. So... big vibe, and something I will never change and would recommend to all.
If you're fairly blind like me and can't see a thing on the small screen, get yourself a monitor. Or, steel one off one of your family members if they have one. I stole my Dad's and that has helped me massively not only to see but to organize myself when there are a lot of documents that need to be on screen at once.
ABO (always be out looking). Keep your outlook open AT ALL TIMES. There's always emails coming in and you don't know what you might miss.
Utilize the #merch. Organization is key and what better way to do it than in ALG style.
Write down questions. This way you won't forget them and can show off all you're learning to your partner through questions.
Get a comfy chair!!! My chair is not comfy, I am too short for it, and this has led to numerous chair shifts a day which look ridiculous when in zoom meetings. Really, the old saying won't steer you far wrong. Keep your feet on the ground!
The Outlook calendar... if you press a member of your teams name their schedule for the week will appear beside yours so you know when they are busy and when they might be free for a call.
Stretch the legs. Yes, you will be wrecked after long days at your desk, but a walk or run in the evening is always a good idea.
Don't let the zoom scaries get to you. Zoom is awkward. Wi-Fi is temperamental. We all know that. But despite these things, the sooner you get chatting in the virtual chat rooms the better. The interns are sound and it won't be thattt awkward!
Have FUN!!! Yes, you learn loads on internships, but at the end of the day they're great craic. They're an opportunity to meet new people, even if that's only virtually. So don't be nervous and enjoy it!
That's all for now SIPS. I hope you all had as much fun as I did. Hopefully I'll get to meet you all soon in person!
So bye for now, and good luck! #SIPJuneBlog2021