Trainee Client Technology Rotation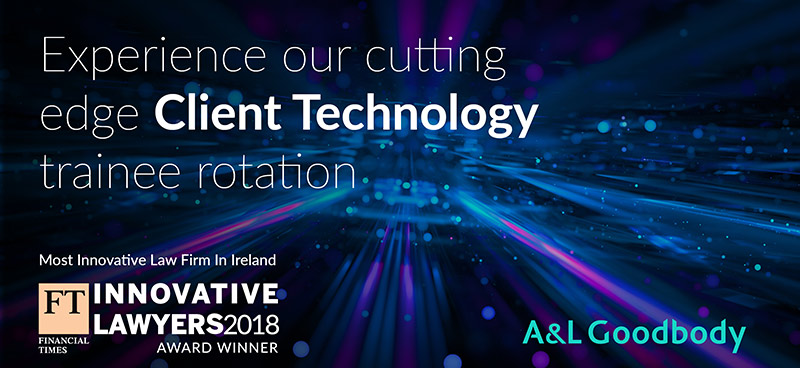 Think Innovate. Deliver.
A&L Goodbody (ALG) introduced a rotation into our Client Technology team in 2019 as a new building block in our trainee programme. This rotation is the first and currently only one of its kind in the Irish market. Innovation is a key component in how we deliver services to our clients. We have specifically designed this Client Technology rotation to equip trainees with the skills to develop and apply next generation technologies and innovative solutions for our clients.
Our clients' requirements for legal services are changing. The environment is increasingly data and technology driven. We work closely with our clients to identify how we can most effectively combine the new opportunities in legal technology and legal process re-engineering across all ALG practice areas. Our Client Technology strategy is to proactively exploit technology for the benefit of our clients.
Our dedicated Client Technology team is led by our Client Technology Partner, Charlie Carroll, and includes a team of lawyers, business analysts, project managers and technology professionals. The team and our products work to achieve our goals of efficiency and innovation across the firm.
Visit our dedicated Innovation & Client Technology page to find out how technology is transforming the way in which we provide legal services to our clients.

Daniel Jackson
I'm in the second seat of my traineeship and I work as part of ALG's Client Technology team. ALG is the first firm in Ireland to offer a seat in Client Technology and I can't overstate how valuable it's been to my training, I feel that I've 'made my mark' by engaging with client tech projects that are entirely my own. I've been able to collaborate with teams across the firm, learn valuable new skills such as platform design, product development, marketing, and project management, all while working as part of a friendly multidisciplinary team.
The Client Technology seat shows ALG's commitment to innovation as the firm looks for ways to stay at the cutting edge of legal technology. This is especially important since the advent of COVID-19 as the international marketplace is continuing to become more and more digitised.
In this seat, trainees have the chance to move outside of their comfort zones and learn to recognise how legal technology and technology professionals can bring value to their teams, to the firm but most importantly to ALG's clients. It's something that I feel will stand to us throughout our careers.