A&L Goodbody and Business to Arts announce Catherine Ann Cullen as the 2016 Writer in Residence
Business to Arts and A&L Goodbody have announced Dublin born author Catherine Ann Cullen as the 2016 Writer in Residence under the Docklands Arts Fund. Catherine will work with pupils at St. Joseph's Co-Ed Primary School in East Wall to develop their creativity and literacy skills.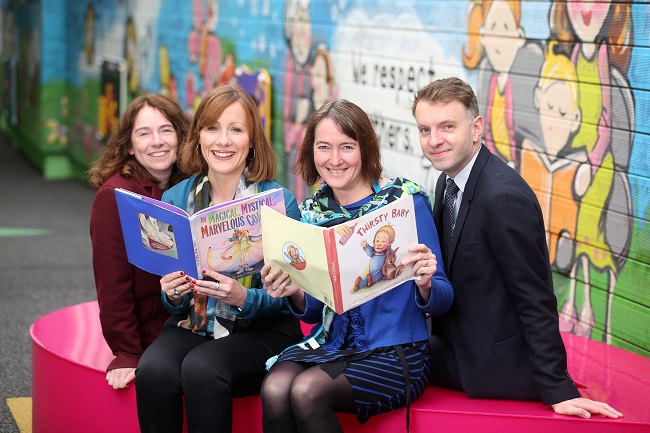 From L to R: Sinead Connolly, DCC; Sinead Smith, Corporate Responsibility Manager, A&L Goodbody; Catherine Ann Cullen, Writer in Residence and Andrew Hetherington, Business to Arts
The Writer in Residence role will see Catherine working with pupils at St. Joseph's, participating in literacy workshops and supporting Business to Arts' wider civic programme of promoting the Arts collaboratively through businesses and communities. The venture marks the first time that a business in Ireland has engaged a Writer in Residence programme with Business to Arts and Dublin City Council. As part of the partnership, A&L Goodbody will also provide funding for the programme worth €30,000 over three years.
Catherine Ann Cullen to date has published three collections of poetry The Other Now (2016), Doghouse, Strange Familiar (2013) and A Bone in My Throat (2007). Her children's books, Thirsty Baby (2003) and the award-winning The Magical, Mystical, Marvellous Coat (2001), were published by Little, Brown in the US. Her work has been anthologised including in If Ever You Go: A Map of Dublin in Poetry and Song (Dedalus 2014). She won the Francis Ledwidge International Poetry Award in 2009 for her poem 'Scooter'. She is a former producer with RTÉ Radio 1, and writes occasional pieces for the Sunday Miscellany programme.
Commenting on the announcement Andrew Hetherington, Chief Executive of Business to Arts said: "The Catherine Ann Cullen and A&L Goodbody residency with St. Joseph's National School is an important and exciting community project as part of the Docklands Arts Fund. Catherine's background as an author and producer, will give students at St. Josephs a very special opportunity to explore the magical world of literature through a new engaging format. We look forward to watching the residence develop, encouraging and instilling a love reading in all students involved."
A&L Goodbody is committed to helping raise literacy levels among children in the Docklands area of Dublin. Over the last four years it has worked with education charity Suas in a programme that includes A&L Goodbody people volunteering for a paired reading literacy support programme with 8-14 year olds. To date, 180 of A&L Goodbody's employees have participated in this programme.
Sinéad Smith, Corporate Responsibility Manager at A&L Goodbody states: "A&L Goodbody is delighted to be supporting this innovative initiative. This partnership builds and complements our ongoing work delivering similar projects to boost literacy levels in our local area. We look forward to working with Catherine Ann through the Writer in Residence programme which creates an exciting new dimension in our work to engage and inspire children."
Catherine Ann Cullen, Writer in Residence & Author states: "I'm very excited to be working with the children of St Joseph's in East Wall and with the wider community around the school. It's going to be a great, creative year for all of us."
Date Published: 28 October 2016