A&L Goodbody launches 2016 Bold Ideas Student Innovation Award
A&L Goodbody today launched its 2016 Bold Ideas Student Innovation Award, by asking university students to think of their 'Bold Idea' to address the legal, business or political challenges facing Ireland today. Students are asked to come up with a solution or proposition that builds on Ireland's reputation and success on the international stage. At the launch, A&L Goodbody also announced its intention to recruit approximately 40 graduate positions over the coming months as part of its Trainee Solicitor Recruitment Programme.
Now in its fifth year, Bold Ideas, recognises the most innovative ideas from either undergraduate or postgraduate students at universities across Ireland. This year's theme of Changing Times - Ireland's Future is open to students of all disciplines.
Speaking at the launch of the competition, John Whelan, Head of A&L Goodbody's International Technology Practice commented: "Bold Ideas is designed to inspire student creativity and bold thinking as they look at the Ireland they want to help create for the future. We are one of the most successful countries in the world for Foreign Direct Investment (FDI) however there are always challenges ahead. We want students to think of innovative and achievable solutions to these challenges."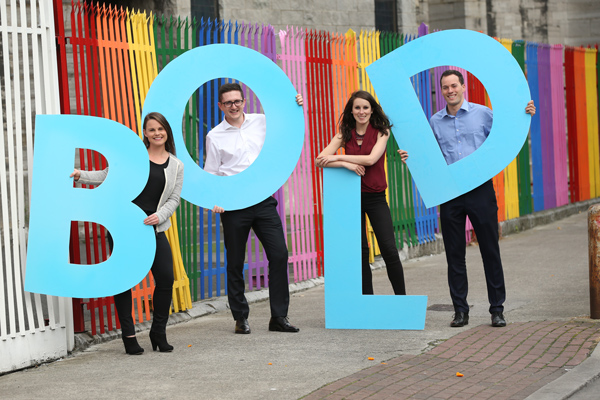 Pictured L-R: Elizabeth Colvin, David Gilmartin, Aisling McDonnell and Stephen Egan, Trainees with A&L Goodbody
Last year's winner, Diarmuid Hickey, said "The Bold Ideas competition is the single best thing I have done during my time at university. It gave me incredible opportunities to work with one of Ireland's most prestigious law firms and expand my knowledge on a topic that was new to me. The chance to present my idea in front of such a prominent judging panel was a very valuable experience, and I loved my time with A&L this summer. I would encourage all students to enter the Bold Ideas competition."
The first prize winner of the competition will receive €4,000 in cash and a summer internship at A&L Goodbody's head office in Dublin. The Firm will also make a cash donation on the winner's behalf to a charity of their choice. Runners up will receive an iPad mini. Members of the public will also be invited to vote for their favourite Bold Ideas submission, by visiting the firm's trainee and intern Facebook page.
Judges for the 2016 Bold Ideas Student Innovation Award competition include:
John Whelan, Head of A&L Goodbody's Technology Practice
Sarah Lennon, Legal Counsel at Google
Jonathan Newman Senior Counsel
The closing date for entries to Bold Ideas is Friday, 11 November and the winner will be announced at a special awards ceremony on Thursday, 1 December. For more information or to apply simply visit the Bold Ideas webpage.
A&L Goodbody's Trainee Solicitor Recruitment Programme offers graduates a paid traineeship, during which time they work across the firm's practice areas. The majority of Trainee Solicitors who complete the programme are offered a full-time position with A&L Goodbody. Further information on the programme can be found at the following Trainee Opportunities webpage.
Date Published: 29 September 2016