A&L Goodbody named Ireland's IP Law Firm of the Year for the third year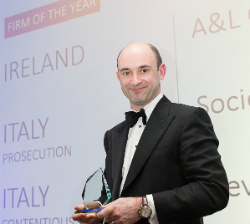 Mark Rasdale, Partner, IP & Technology at the 2016 MIP Awards Ceremony in London
A&L Goodbody has been named "Ireland's Intellectual Property (IP) Law Firm of the Year 2016" by the leading international publication Managing Intellectual Property (MIP), at an awards ceremony in London. Having won this award three times over the past four years, this accolade reinforces the group's strength and reputation in this field.
The annual MIP awards recognise and celebrate the leading firms in each jurisdiction across Europe, Asia-Pacific and the Americas. Winning firms are selected due to the innovative and challenging IP work they advise on.
John Whelan, Head of the International IP & Technology team at A&L Goodbody, commented:
"We are delighted to have received this award for the third time. Ireland's IP and Technology sector continues to grow and with legal issues becoming increasingly international the services we provide our clients is ever more important to them."

Date Published: 31 March 2016