A&L Goodbody partners with Dress for Success Dublin to Support Career Progression for Dublin Women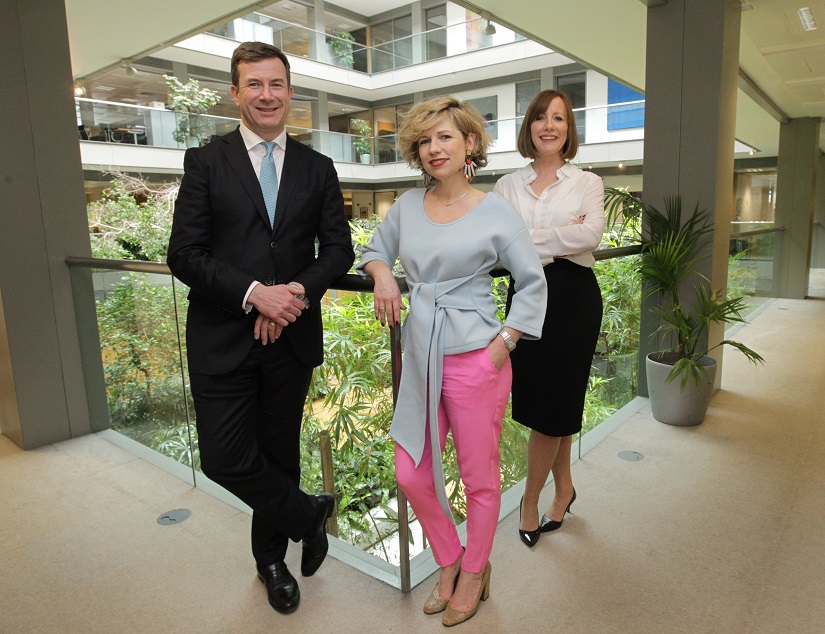 Pictured L-R: Julian Yarr, Managing Partner, A&L Goodbody, Sonya Lennon, founder of Dress for Success & Sinead Smith, Corporate Responsibility Manager, A&L Goodbody
A&L Goodbody has partnered with charity Dress for Success to help Dublin women enter the jobs market and kick-start their careers. Under the partnership, called 'Steps to Success', women taking part in employment programmes – such as JobBridge, Community Employment schemes and Tús – will avail of mentoring and career progression advice from experienced employees at A&L Goodbody.
Announcing details of the partnership, Sonya Lennon, designer, tech entrepreneur and founder of Dress for Success Dublin said: "Labour market activation schemes provide an important first step for women entering or re-entering the workforce after a period of unemployment. However, at Dress for Success Dublin, we noticed that, sometimes, women end up back on the live register after completing such schemes. We began exploring additional supports to ensure women can use employment schemes as a springboard towards forging truly sustainable careers. We developed our 'Steps to Success' programme in response to this need: the idea is to give women who are at a somewhat vulnerable stage some extra supports to develop their careers."
Each participant will be paired with an A&L Goodbody mentor who will provide advice and act as a sounding board, drawing on what they have learned from their own careers. Mentors will commit to the programme for a minimum period of one year and will set aside at least two hours per month for one-to-one meetings with the woman they are mentoring. They will also participate in ongoing training sessions throughout the year.
A&L Goodbody's corporate social responsibility programme has a particular emphasis on supporting educational and employment initiatives. The firm has committed to a three-year partnership with Dress for Success Dublin, and will provide financial support to the charity in addition to mentoring. Commenting at the launch, Julian Yarr, Managing Partner at A&L Goodbody, said: "Having a diverse workforce where people from all walks of life feel they are supported and can develop their skills in the workplace is very important. We are delighted to be partnering with Dress for Success Dublin and this very worthwhile initiative, and our mentors look forward to working with the participants of the programme to help them achieve their future career goals."
Date Published: 12 May 2016