ALG expands pro bono team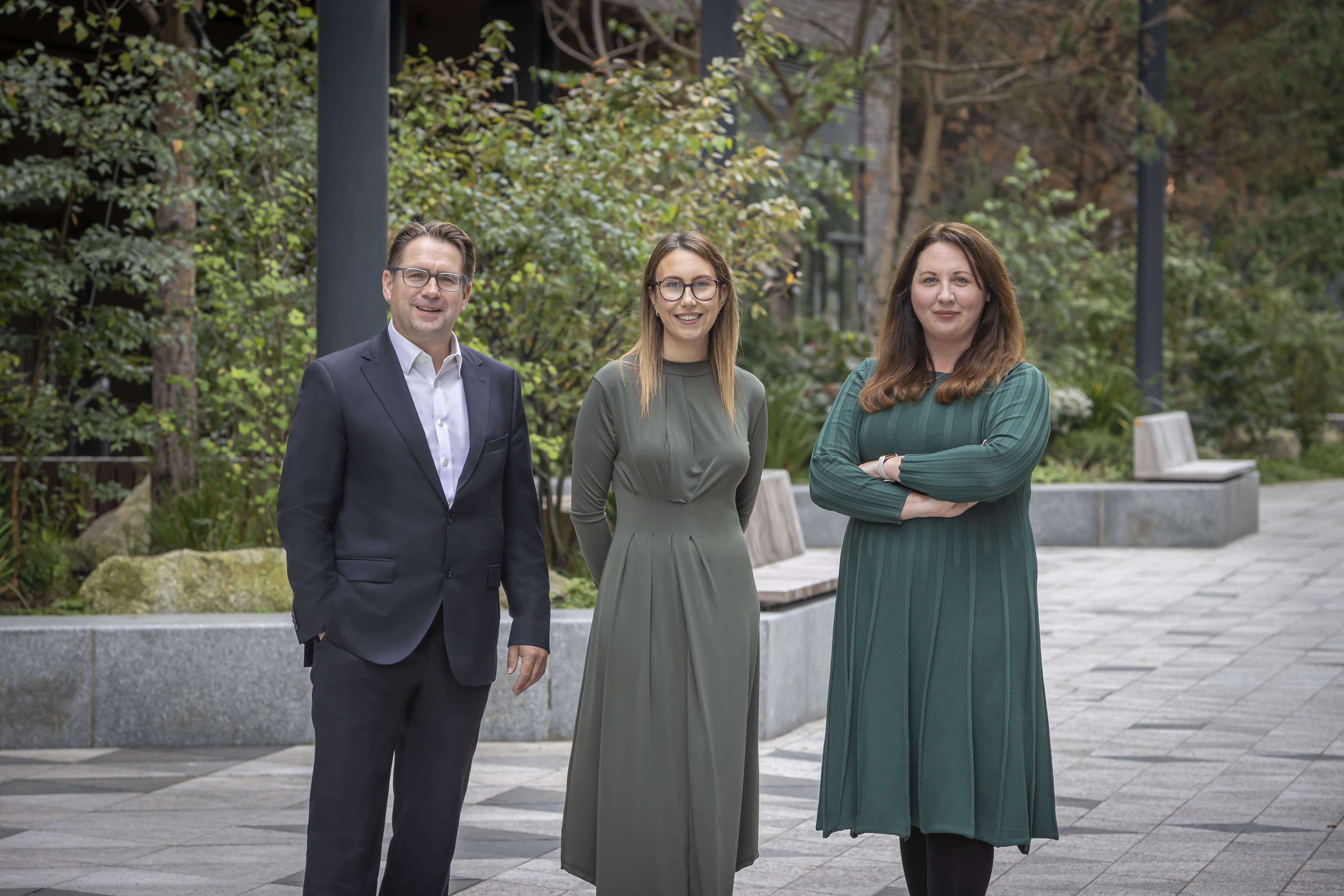 Photo – (l to r): Ross Moore, Amy Martin and Eithne Lynch
ALG is expanding our pro bono team with an additional full-time lawyer, Amy Martin. With the creation of this new role, we now have the largest dedicated pro bono practice in Ireland. The practice is led by our Head of Pro Bono, Eithne Lynch and includes a dedicated trainee rotation and annual law and human rights student placement from National University of Ireland Galway.
ALG's award-winning pro bono practice provides free legal advice to organisations and individuals who otherwise may not have access to the justice system. It is one of the fundamental pillars and engines of our new three-year responsible business strategy 'Our future with purpose – ALG's commitment to sustainability'. In 2021 ALG provided over 12,000 hours of free legal advice through our pro bono practice – the most we have ever delivered. This advice is provided by lawyers and trainees, in areas such as human rights, housing and asylum law.
Ross Moore, Responsible Business Partner at ALG, said: "The pro bono practice is such an important part of us being a responsible business which is central to our purpose. We have a great pro bono practice and fantastic people who devote their time and skills in the context of international crises and social issues closer to home. It makes such a difference to people's lives, but our ambition is to do more."
Head of Pro Bono, Eithne Lynch, added: "Our pro bono practice has enabled our people to engage on matters of public interest law but we recognise that there remains areas of unmet legal need. That's why we're expanding our team with Amy's appointment and her knowledge and experience will be a very welcome addition to the team."
About ALG's pro bono practice
ALG works in partnership with domestic and international "clearing houses", including the Public Interest Law Alliance, Business in the Community and TrustLaw (the Thompson Reuters Foundation). They match our expertise with specific legal needs in non-governmental organisations, community organisations and law centres. Last year we delivered 12,780 pro bono hours to various charity partners, not for profit organisations and direct legal access to persons in need of advice and representation. This is through strategic partnerships with the Irish Refugee Council Law Centre, Mercy Law Resource Centre and Spirasi.
In 2018 we became the first Irish law firm to create a full-time pro bono associate role. The following year, we once again led the market by creating a trainee rotation in our pro bono practice. ALG's pro bono practice has been awarded numerous accolades over the years. Most recently by winning 'Outstanding Firm for Pro Bono' from Chambers Europe in 2021. ALG is the only law firm in Ireland to have achieved the Business Working Responsibly Mark and is a founding signatory of the Pro Bono Pledge Ireland.
To find out more about our pro bono practice, see here.
Date published: 2 November 2022