ALG host's annual Corporate Crime and Regulation Summit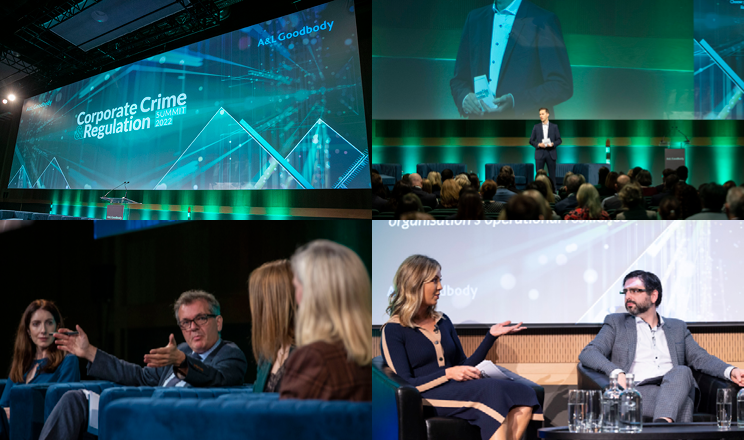 Over 500 people from corporate Ireland attended ALG's Corporate Crime and Regulation Summit on 19 October 2022.
This is the fourth year that ALG have hosted the Corporate Crime & Regulation Summit and we were delighted to be back again in person at the Convention Centre Dublin, after two years of a virtual format.
This one of a kind, half day conference involved a series of sessions and breakout discussions by speakers including 29 business leaders, legal experts and senior officials. Key issues and new developments in the corporate crime and regulation space were discussed with a particular emphasis on the following themes:
Managing corporate risk
Whistleblowing
ESG
Operational resilience
Regulatory enforcement investigations
Sanctions
Throughout these sessions, delegates were updated on regulatory and law enforcement issues and were provided with practical solutions to manage regulatory and compliance risk.
Guest speakers at the conference included: Seana Cunningham, Director of Enforcement and Anti-Money Laundering, Central Bank of Ireland; Ian Drennan, Chief Executive, Corporate Enforcement Authority; Patrick Lordan, Garda National Economic Crime Bureau and the Financial intelligence Unit Ireland; Conor Brophy, Managing Director, Teneo; Marion O'Donnell, Fidelity International; Máire Reidy, Regulatory Counsel, Stripe; Michael O'Kane, Senior Partner, Peters & Peters LLP amongst others.
Date published: 21 October 2022