ALG marks deaf awareness week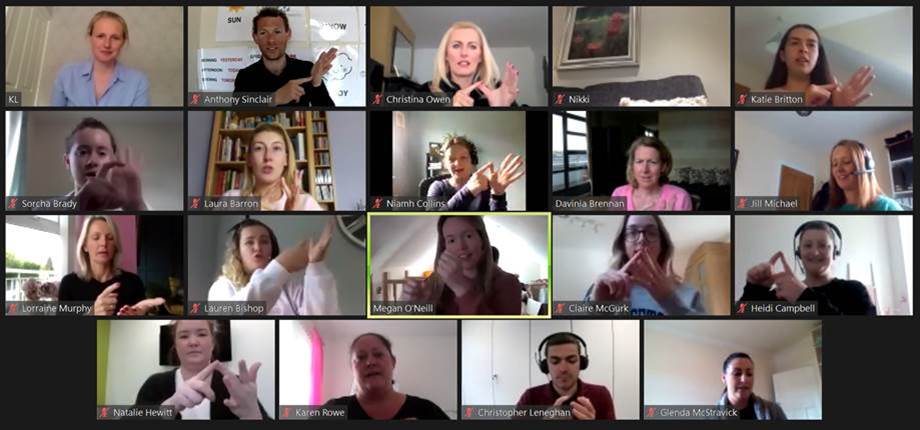 Our Belfast office has marked deaf awareness week with the latest in a six-week course of sign language classes.
Over 30 of our lawyers and business support professionals in Belfast are participating in the virtual sign language course with Anthony Sinclair, founder of Sign Source - a web-based platform that strives to make learning sign language more accessible.
The course will equip the team with the information and language they need to strengthen our Belfast office's offering as a place of equality for deaf colleagues, visitors and clients.
Sessions run weekly to enable the team to be able to engage in basic conversation with the use of sign language. This is complemented with deaf awareness training to build understanding of the challenges facing the deaf community.
A recent report from the 'Return On Disability Group' reveals that disability groups have felt forgotten in Diversity and Inclusion strategies – with only 4% of companies who say they prioritise diversity considering disability within their initiatives.
Barbara Creed, Diversity and Inclusion partner at our Belfast office explained: "Throughout the development of our Diversity and Inclusion strategy we have been very mindful to put the needs of disability groups at the front and centre of our considerations. This has seen us proactively explore ways to increase the inclusivity of those with disabilities across our employee and client base.
"Sign Source's solution-based training is equipping our team with the tools and knowledge to make our environment much more inclusive and accessible. The course has also given us a critical insight into the challenges that can be experienced by deaf people when it comes to legal processes and some of the solutions that we can very easily implement to combat these."
Anthony Sinclair commented: "The deaf community are a linguistic minority and Sign Source believes that everyone in society can easily learn the fundamental language and awareness needed to communicate with and include deaf people.
"We are striving to make this happen by building and maintaining relationships with forward-thinking business like A&L Goodbody, enabling us to explore bespoke solutions together that work for the firm's employees, visitors and clients."
For more information about Sign Source, visit www.thisissignsource.com
Date published: 5 May 2021