ALG win three Ishka deal of the year awards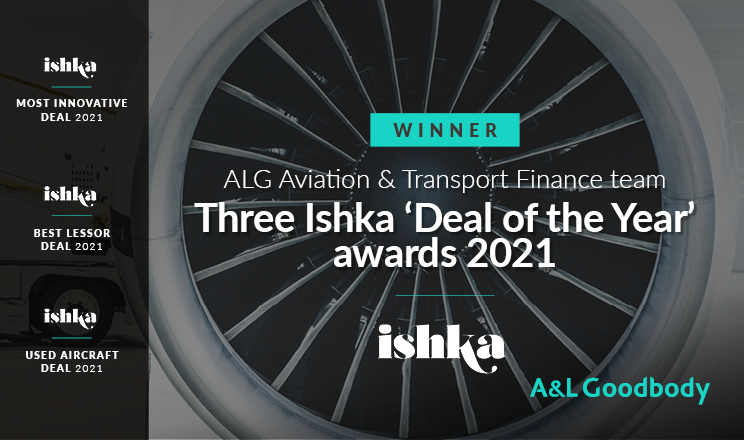 A&L Goodbody's (ALG) Aviation & Transport Finance team has won three of the ten categories at the Ishka 'Deal of the Year' awards 2021. These awards highlight the best aviation financing transactions of 2021, recognising financing transactions and M&A for airlines, lessors and investors. The winning deals were announced at the Ishka Aviation Finance Festival in Dublin on Wednesday 8 June bringing together expert content from industry thought-leaders.

The ALG winning deals are:
Most Innovative Deal of 2021 for SALT 2021-1 | Stonepeak aviation loan ABS
Best Used Aircraft Deal 2021 for CLAS 2021-1 | Castlelake and Castlelake Aircraft Structured Trust
Best Lessor Deal of 2021 for AerCap's $30bn M&A and Debt Package To Acquire GECAS
Speaking about the awards Dickon Harris, editor at Ishka, said:

"2021 was an extraordinary year for the industry. Frankly, every transaction done was conducted against the incredibly difficult backdrop of the pandemic. The deals we have highlighted through the awards we felt deserved special recognition due to their structural innovation, excellence in execution, and their lasting impact on the aviation finance space."
For information on how we can advise your business, contact any member of ALG's Aviation & Transport Finance team.
Date published: 10 June 2022