ALG win five Airfinance Journal Global awards 2022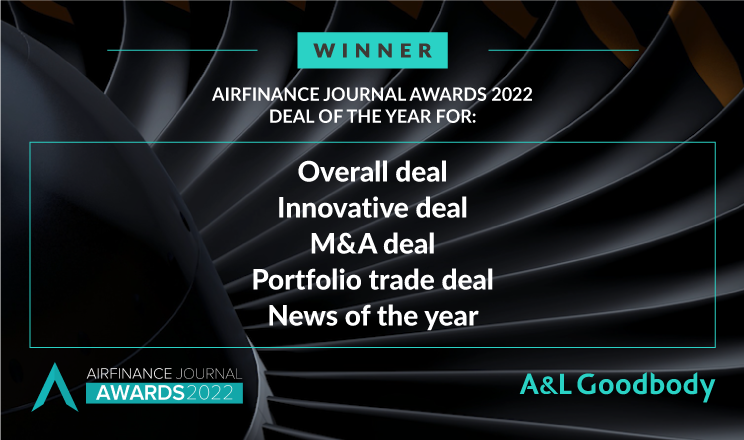 A&L Goodbody's (ALG) Aviation & Transport Finance team are listed across five 'Deals of the Year' awards at the Airfinance Journal Global Awards 2022. This is the fifth consecutive year the ALG team has been recognised globally for excellence in the market on aviation finance transactions. The awards recognise the organisations and teams that played a central role in deals to have closed over the past year. The awards are judged by an external, expert judging panel from a shortlist determined by the AFJ editorial team.
The winners were announced at a prestigious gala dinner at The Waldorf Hilton, London on Thursday 8 June. The ALG winning deals are:
Overall Deal of the Year - Nordic Aviation Capital $6.3bn Restructuring
Innovative Deal of the Year - Castle lake Aviation $123.4m Gulf Air A321neo PDP Financing Facility
M&A Deal of the Year - SMBC Aviation Capital/Goshawk $6.7bn Merger
Portfolio Trade of the Year - Carlyle Aviation Partners/AMCK Holdings Aircraft Portfolio Acquisition
News of the Year - Aergo Capital/Seraph Aviation Management Acquisition
Maria McElhinney, partner, commented: "It is an honour to be recognised as a key global player, along with our valued clients, working on these outstanding aviation finance deals. Thank you to our clients around the world for continuing to work with our trusted team on the most innovative, complex and impactful deals across the industry. These awards showcase our team's commitment and technical skills, as ALG strive to position Ireland as a global leader in aviation finance."
For information on how we can advise your business, contact any member of ALG's Aviation & Transport Finance team.
Date published: 13 June 2023