Young Legal Eagles Look to the Future: Law students gather for third annual UCD Student Legal Convention (24/03/2016)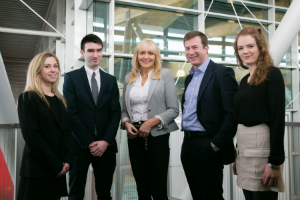 Pictured from L to R: Ciara Dunne; UCD SLC, Conor Keegan; UCD SLC, Miriam O'Callaghan; Broadcaster & Journalist, Julian Yarr; A&L Goodbody, Managing Partner, Lucy Ryan; UCD SLC
Almost 200 law students from universities across Ireland gathered in UCD to hear from some of Ireland's most influential legal minds, social commentators and leading academics on developing issues in law and society at the third annual UCD Student Legal Convention.

The student-led initiative, which is supported by leading corporate law firm A&L Goodbody and the UCD Student Legal Service, was hosted by broadcaster Miriam O'Callaghan, who introduced this year's theme of "Developing issues in law and society".

Notable topics discussed at the event included 'Data protection and IT rights – The right to know and the right to be forgotten'. Helen Dixon, the Data Protection Commissioner noted that the right to be forgotten is not absolute and must be balanced against other fundamental rights such as the freedom of expression and freedom of the media. She highlighted the challenge posed by the fast changing pace of technology and stressed the need for data protection laws be reviewed and updated on an ongoing basis.

Meanwhile, during a discussion on 'Law Reform: The Future Redundancy of Our Profession' John Quirke, President of the Law Reform Commission of Ireland maintained that the legal profession will be subject to change but remained confident that it will survive as long as legal professional advice is needed.

Other topics discussed at the event included; balancing the rights of victims and the rights of the accused, equality in Ireland, the fallout from the General Election and the complexities of legislating for surrogacy.

Speaking at the Convention, Managing Partner of A&L Goodbody Julian Yarr commented: "The legal landscape in Ireland continues to shift and evolve presenting new challenges and issues every day. The demands and requirements of our role as legal professionals has changed dramatically over the years and our ability to adapt and adjust has never been more important. A&L Goodbody is delighted to work with the organisers of the UCD Student Legal Convention to intellectually challenge and inspire students about some of the most significant legal issues facing Ireland in 2016 and beyond."

Other speakers on the day included the Fr Peter McVerry, Simon Murphy – President of the Law Society of Ireland, Sarah O'Shea - Deputy CEO and Legal Director of the FAI and Colm O'Gorman - Head of Amnesty International Ireland.