A&L Goodbody appoints four new partners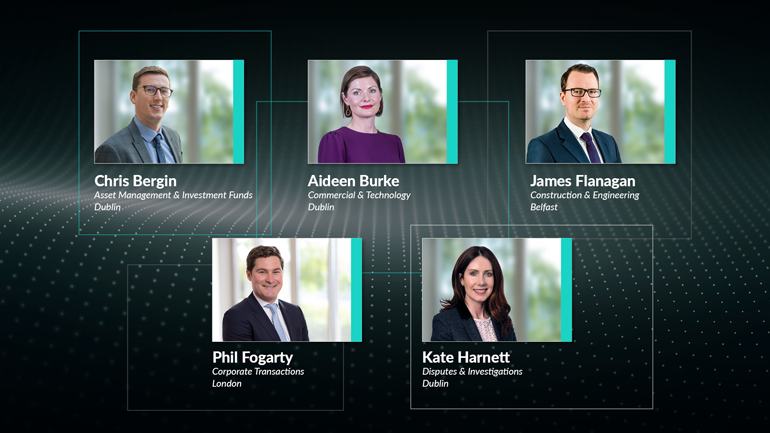 A&L Goodbody LLP (ALG) has appointed four new partners – two in Dublin, one in Belfast and one in London. The firm has also appointed one new of counsel in Dublin.
The new partners are Chris Bergin (Asset Management & Investment Funds, Dublin), Aideen Burke (Commercial & Technology, Dublin), James Flanagan (Construction & Projects, Belfast) and Phil Fogarty (Corporate Transactions, London). The new of counsel is Kate Harnett (Disputes & Investigations, Dublin). The appointments of Chris, James, Phil and Kate are effective from 1 January 2024.
Aideen joins ALG from an international law firm based in Dublin. She specialises in intellectual property, technology and data privacy law, working with both domestic and international clients. Aideen advises clients across a broad range of sectors, with particular speciality in technology, media and telecoms.
The new partners and of counsel are in addition to the appointments of Aisling Muldowney and Lorena Dunne as partners and Caroline McNally as of counsel, already announced earlier this year.
David Widger, Managing Partner at ALG, said: "Congratulations to Chris, James, Phil and Kate on their appointments, and a warm welcome to Aideen. In developing and attracting the very best lawyers, we always have an eye on the future – both in terms of areas where we see healthy demand and in what's being asked of us by our clients. Our new partners and of counsel all demonstrate the adaptability and forward thinking that's at the core of how we service our clients."
Date published: 16 November 2023