A&L Goodbody becomes first Irish law firm to be named 'European Law Firm of the Year'
A&L Goodbody has become the first Irish law firm to win the prestigious European Law Firm of the year award at The Lawyer publication's annual European Awards. The Firm was selected from a shortlist of leading firms from 16 different countries including France, Germany, Spain, Italy, the Netherlands, Russia and Sweden.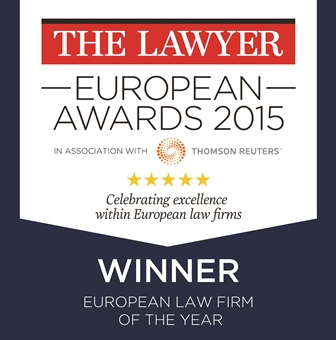 A&L Goodbody received two other awards including:
Irish Law Firm of the Year (for the second year running); and
European Banking & Finance Deal of the Year – for its work on the restructuring of the Irish Bank Resolution Corporation (IBRC).
Accepting the awards Julian Yarr, Managing Partner at A&L Goodbody commented:
"Every day our people are committed to providing clients in Ireland and across the globe with the best strategic, innovative and commercial legal advice.
These awards acknowledge the talent, dedication and passion of our entire team in delivering world-class services.
It's a fantastic achievement to be selected as Europe's best and I'm extremely proud of the contribution everyone at the firm has made."
An experienced pan-European judging panel – comprised of leading corporate general counsel and senior partners in European law firms – selected winners based on their ability to work on high-profile and complex transactions, and to improve skills and diversity across their organisations.
In awarding A&L Goodbody with the top European award, the panel praised the Firm's innovation, focus on diversity, and commitment to building an international profile.
The Lawyer is an international market-leading media brand for corporate lawyers and in-house counsel. Its European awards are held annually to showcase and celebrate the best of legal talent across the globe.