A&L Goodbody calls for 'Bold Ideas' from university students 2015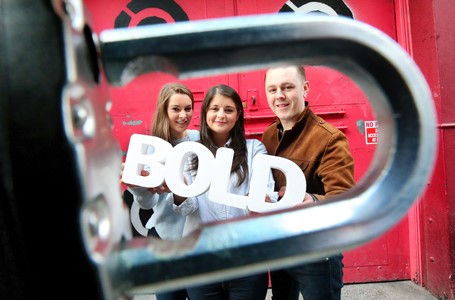 As the world becomes more digitally connected, how can societyprotect itself from cyber-risks? That is the question being put to university students across Ireland as part of corporate law firm A&L Goodbody's Bold Ideas Student Innovation Award competition, which was launched today. At the launch, the Firm also announced its intention to recruit approximately 40 graduate positions over the coming months as part of its Trainee Solicitor Recruitment Programme.
Now in its fourth year, Bold Ideas recognises the most innovative ideas from either undergraduate or postgraduate students at universities across Ireland. This year, students of all disciplines have been asked to identify specific cyber risks facing society and to develop comprehensive solutions to help address those risks.
Speaking at the launch of the competition, John Whelan, Head of A&L Goodbody's Technology Practice commented: "Bold Ideas is designed to encourage the enthusiasm and creativity of the next generation of professionals and give them a platform to identify and express their views on issues we face in modern society."
He continued: "Cyber risk has become a part of daily life in the technological age. As cybercrime continues to become more sophisticated, and prevalent, society must remain vigilant to potential threats and take the necessary precautions."
The first prize winner of the competition will receive €3,000 in cash and an internship at one of A&L Goodbody's office locations (Dublin, Belfast, London, New York or San Francisco) including travel and accommodation. The Firm will also make a cash donation on the winner's behalf to a charity of their choice. Runners up will receive an iPad mini.
This year, members of the public will also be invited to vote for their favourite Bold Ideas submission, by visiting the firm's trainee and intern Facebook page.
Judges for the 2015 Bold Ideas Student Innovation Award competition include:
John Whelan, Head of A&L Goodbody's Technology Practice
Karlin Lillington, Technology Journalist and Columnist
Brian Honan, CEO of BH Consulting; Member of the Advisory Group on Internet Security to Europol's Cyber Crime Centre
Sarah Lennon, Legal Counsel at Google
The closing date for entries to Bold Ideas is Friday, 13 November and the winner will be announced at a special awards ceremony on Thursday, 3 December. For more information or to apply simply visit the Bold Ideas webpage.
A&L Goodbody's Trainee Solicitor Recruitment Programme offers graduates a paid traineeship, during which time they work across the firm's practice areas. The majority of Trainee Solicitors who complete the programme are offered a full-time position with A&L Goodbody. Further information on the programme can be found at the following Trainee Opportunities webpage.