A&L Goodbody employees recognised for commitment to diversity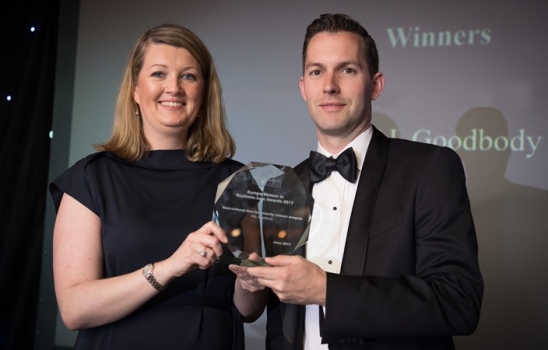 Pictured at the awards are: Niamh Ryan, Head of London Office and Enda Hurley, Partner, Litigation & Dispute Resolution and Diversity & Inclusion Lead at A&L Goodbody.
A&L Goodbody has been awarded Best National Firm in a Diversity category at the European Women in Business Law Awards 2017 in London. The Firm was recognised for the level of engagement of its people in fostering a culture of inclusion, focusing on disability, sexual orientation, gender, family status, ethnicity and age.
Commenting on the award win, Julian Yarr, Managing Partner of A&L Goodbody said: "The firm's commitment to Diversity & Inclusion is based on a positive attitude to difference and a recognition that individual differences should be respected and encouraged for the good of the firm. We strive to harness diverse thinking by creating a culture where all of our people are encouraged to draw upon their unique backgrounds, beliefs, interests and perspectives."
The Women in Business Law Awards celebrate the best initiatives by law firms across Europe with regards to gender diversity, innovation, work life balance, mentoring and talent management.
Date published: 22 June 2017