A&L Goodbody is the first Irish law firm to achieve the Business Working Responsibly Mark
A&L Goodbody has become the first Irish law firm to be awarded the Business Working Responsibly certification (The Mark) for responsible and sustainable business practices, such as its approach to supporting the community, energy and environment management, workplace policies and its relationships with clients and suppliers.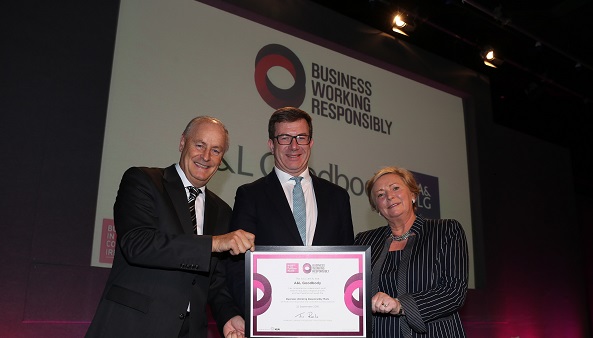 Maurice Pratt, Business in the Community Ireland and An Tánaiste Frances Fitzgerald pictured with Julian Yarr, Managing Partner A&L Goodbody.
The Mark, which was awarded by An Tánaiste at a CEO Breakfast Forum in Dublin Castle, recognised the Firm's approach to Corporate Responsibility centering on A&L Goodbody's leadership, policies, practices, performance and impact. The Firm was one of 14 businesses awarded with the Mark in 2016.
Accepting the Mark, Julian Yarr, Managing Partner at A&L Goodbody commented: "We are incredibly proud to achieve this Mark which independently benchmarks our responsible business policies and performance against best international practice. Being a responsible business is core to our business strategy and is a fundamental driver of our success. I congratulate everyone at A&L Goodbody for their energy and contribution to all the programmes we are involved in and the impact they are making to our community, our Firm and the environment that we work in."
The Firm created its first three year corporate responsibility strategy in 2012 which focused on a comprehensive community programme supporting educational and employment initiatives in its local community such as its partnerships with Suas, Social Entrepreneurs Ireland and more recently Business to Arts and Dress for Success. It also included a significant pro bono programme providing free legal advice to many Irish community and NGO organisations. A&L Goodbody launched its second three year responsible business plan at the beginning of 2016 which focuses on maintaining best practice and also provides a clear roadmap to developing initiatives in a number of areas such as; respect for the rule of law and business and human rights; workplace practices such as diversity and inclusion; and sustainable procurement.
The Business Working Responsibly Mark is developed by Business in the Community Ireland, audited by the National Standards Authority of Ireland and is based on ISO 26000, the international standard developed to help organisations effectively assess and address their social responsibilities. To read more about the Mark, click here.
Date Published: 25 October 2016