A&L Goodbody named 'International Law Firm in the Americas' for its cross-border tax work by International Tax Review
A&L Goodbody named 'International Law Firm in the Americas' for its cross-border tax work by International Tax Review (23 September 2015)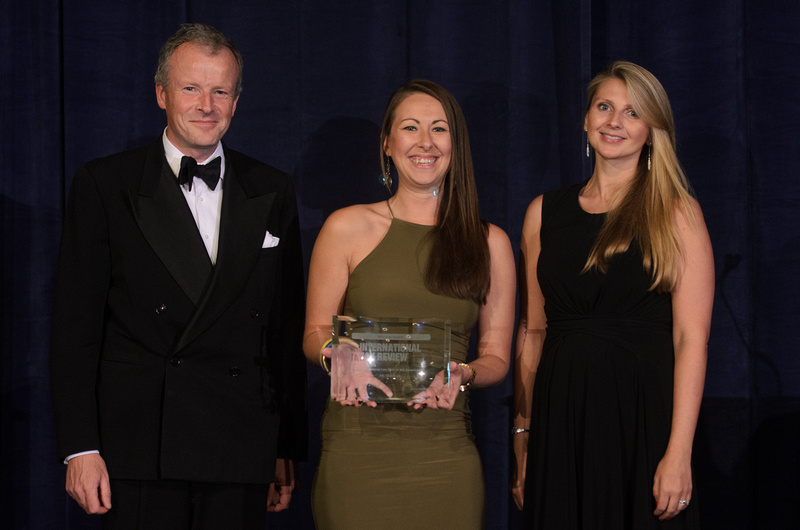 Pictured from L to R: James Somerville; Tax Partner, A&L Goodbody, Sophie Ashley; Managing Editor TPWeek and Lyndsey Falconer; Associate, A&L Goodbody
A&L Goodbody named 'International Law Firm in the Americas' for its cross-border tax work by International Tax Review.
A&L Goodbody has been named 'International Law Firm in the Americas 2015' at the International Tax Review Americas Awards ceremony, which took place in New York on Thursday, 17 September.
These awards identify the leading international law firms throughout the US who have advised on the most innovative and challenging tax work. This award recognises the firm that has demonstrated excellence across an array of cross-border corporate tax work involving the US.
Nominations are reviewed by a panel of researchers who analyse the deals that firms were involved in and consult with tax advisers and lawyers, tax executives and in-house counsels to choose the leading advisory firms.
Peter Maher, Head of A&L Goodbody's Tax Department, commented: "We are delighted to have received this accolade, particularly off the back of winning the ITR Irish Tax Firm of the Year award in both 2014 and 2015. It is in recognition of the work done by the Firm's corporate tax group on many headline transactions such as Medtronic on its US$42.9bn acquisition of Covidien; Endo International plc on its acquisition of Auxilium for US$1.76bn; and Vidara Therapeutics Research on its acquisition by Horizon Pharma Inc and Horizon's related corporate inversion into Ireland for €474m."
International Tax Review is a leading global publication dedicated to international tax strategy for corporate tax directors, CFOs, tax lawyers and advisers.