A&L Goodbody named Irish Law Firm of the Year 2017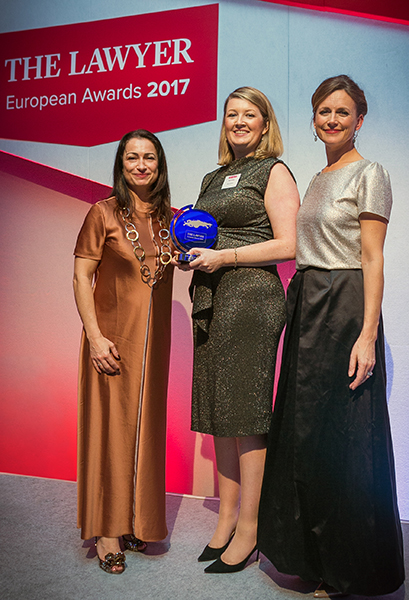 Pictured L- R: Isabelle Meyer, Legal Director Europe, Moet Hennessy; Niamh Ryan, Partner, A&L Goodbody (London), and Katie Derham, Broadcaster and BBC Proms Presenter
A&L Goodbody has been named 'Irish Law Firm of the Year 2017' for the third time in four years by the international legal publication The Lawyer. The annual European Law Firm Awards Ceremony took place in London and recognised the most notable achievements and stand out successes of law firms across Europe.
According to the judges, the Irish Law Firm of the Year award was based on A&L Goodbody's strategic vision, innovation in legal solutions, and excellence in client service. A&L Goodbody also won the 'European Corporate Deal of the Year' category for its work advising US company Verizon on its €2bn acquisition of Fleetmatics Group, which was a ground-breaking transaction for Irish-listed PLCs.
On the back of these awards and such strong market performance in Europe, the firm was placed second for the prestigious 'European Law Firm of the Year Award'- having been the first Irish law firm to win this in 2015.
Commenting on the awards, Julian Yarr, Managing Partner at A&L Goodbody said:
"The Lawyer Awards recognise the market's view of A&L Goodbody as being consistently at the top of the Irish market and also as one of the very best in Europe. We are proud of the value and impact everyone in the firm brings to client service. We are committed to consistently developing the most innovative, commercial and strategic legal advice for our clients and their businesses."
The Lawyer is an international market-leading media brand for corporate lawyers and in-house counsel. Its European awards are held annually to showcase and celebrate the best of legal talent across Europe.
Date Published: 24 March 2017