A&L Goodbody named Irish Law Firm of the Year for financial services transactions
A&L Goodbody has been named 'Irish Law Firm of the Year 2017' by the International Financial Law Review (IFLR) for work undertaken on a number of significant international transactions. This is the second such award this year following the international legal publication, The Lawyer, also naming A&L Goodbody as Irish Law Firm of the Year in March.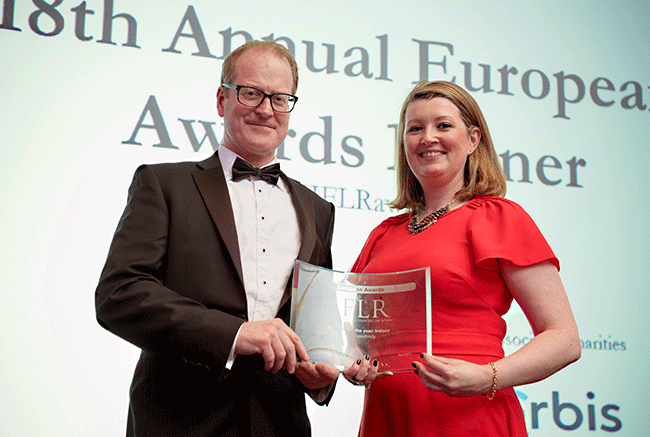 L-R: A&L Goodbody Partners Peter Maher, Head of Tax, and Niamh Ryan, Head of London office,
receiving the 'Irish Law Firm of the Year 2017' award from IFLR.
Celebrated at a ceremony in London, the European awards recognise outstanding achievements across a range of financial services areas including Debt & Equity Capital Markets, Project Finance, Corporate Migrations and Financial Services Regulation.
As well as the overall award for Ireland, A&L Goodbody advised on the winning 'High Yield Deal of the Year' for a significant Virgin Media debt capital markets transaction. Other deals the firm advised on during the period included Johnson Controls Inc on its $14bn merger with Tyco international plc, NAMA on Project Arrow the largest loan portfolio sale to date in Ireland and DirectRoute on the N17/N18 Gort to Tuam PPP road project.
Julian Yarr, Managing Partner of A&L Goodbody, said:
"Over the last 12 months we have continued to play a lead role on the majority of the most significant, complex and innovative financial deals and transactions to have taken place not just in Ireland but internationally. This award recognises our leading position at the top of the Irish market across the full range of financial services. Financial services are facing a particularly challenging time with the economic and political unpredictability currently present in the EU, the UK and the US. In the context of Brexit, we are working with international financial services clients who are looking to obtain a better understanding of the legal implications for their cross-border activities and how to maintain access to the EU's single market. Therefore, our market leading expertise in this industry, with all its challenges, is key in providing robust commercial advice at both a domestic and international level."
The IFLR award follows a number of other awards and accolades recently awarded to A&L Goodbody this year. In March the firm was named 'Irish Law Firm of the Year' for the third time in four years by the international legal publication, The Lawyer. The firm was also ranked 'Ireland's Most Innovative Law Firm' by the Financial Times and was named Ireland's 'M&A Legal Advisor of the Year'.
Date published: 25 April 2017