A&L Goodbody named 'Irish Tax Firm of the Year 2017' for the third time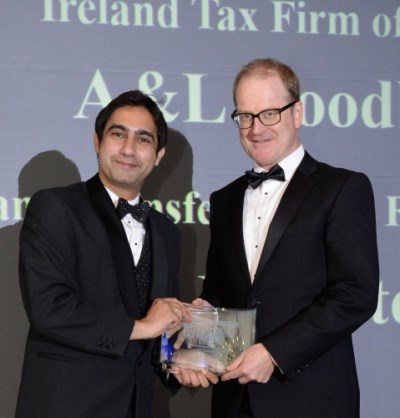 Pictured L- R: Salman Shaheen, Managing Editor, International Tax Review and Peter Maher, Partner & Head of A&L Goodbody's Tax Department
A&L Goodbody has been named 'Irish Tax Firm of the Year 2017' at the International Tax Review European Awards ceremony in London.
The awards seek to recognise the leading international tax professionals and firms from around Europe. Nominations are reviewed by a panel of researchers who analyse the deals that firms were involved in, based on criteria including innovation, impact and size.
This is the third time A&L Goodbody has achieved this award, more times than any other Irish law firm over the past 10 years which demonstrates the group's market leading position in this area of Irish law.
Some notable transactions the team instructed on over the past year included advising: Johnson Controls Inc. on the spin-out of its Adient automotive business; Johnson Controls Inc. on its merger with Tyco plc and Global Indemnity plc on its re-domestication of the Global Indemnity group from an entity incorporated in Ireland to an entity incorporated in the Cayman Islands.
Peter Maher, Head of A&L Goodbody's Tax Department, commented: "Ireland continues to attract international companies who wish to invest or carry out transactions in this jurisdiction. These transactions require a range of legal services but particularly specialist tax advice. This is where we can help clients by utilising our experience from a number of large, complex deals we have been involved in over the last few years. To have won this award three times recognises the expertise of our tax lawyers and the strength in depth we have across our team in Ireland, the UK and in the US."
International Tax Review is a trade publication for corporate tax directors, CFOs, tax lawyers and advisers.
Date published: 13 June 2017