A&L Goodbody named Irish Tax Firm of the Year for the second consecutive year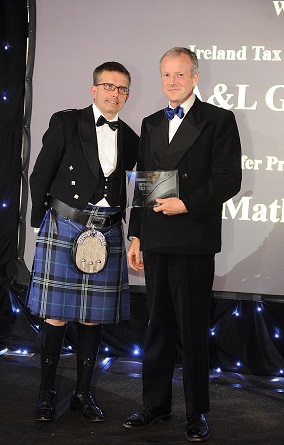 From L to R: Ralph Cunningham, Managing Editor, International Tax Review, James Somerville, Tax Partner, A&L Goodbody.
A&L Goodbody has once again been named 'Irish Tax Firm of the Year 2015' at the International Tax Review European Awards ceremony in London.

The awards identify the leading firm in each jurisdiction throughout Europe that advised on the most innovative and challenging tax work. Nominations are reviewed by a panel of researchers who analyse the deals that firms were involved in and also consult with tax advisers and lawyers, tax executives and in-house counsels to choose the leading advisory firms in Europe.

Some notable transactions the team instructed on over the past year included advising: Medtronic on its US$42.9bn acquisition of Covidien; Endo International plc on its acquisition of Auxilium for US$1,768m; and Vidara Therapeutics Research on its acquisition by Horizon Pharma Inc and Horizon's related corporate inversion into Ireland for €474m.

Peter Maher, Head of A&L Goodbody's Tax Department, commented: "To receive this accolade for the second year in a row is a fantastic achievement. The award recognises our expertise across a range of areas – from transactional to finance and advisory – and underlines the extent to which we continue to lead the market. Our dedicated team of specialist tax lawyers enables us to work across multiple jurisdictions, advising our clients on a range of complex and challenging transactions."

International Tax Review is a trade publication for corporate tax directors, CFOs, tax lawyers and advisers.