A&L Goodbody sponsors world premiere stage production in Belfast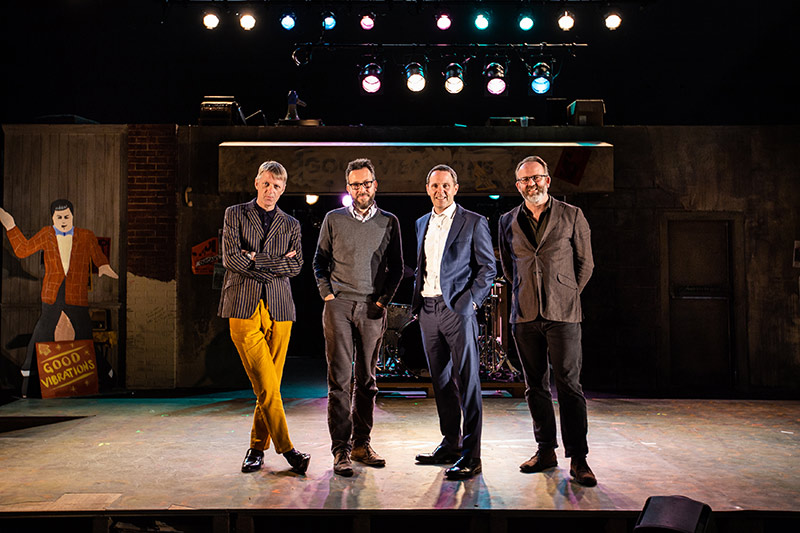 Pictured L-R: Writers Glenn Patterson and Colin Carberry, Michael Neil, Head of A&L Goodbody Belfast office and Jimmy Fay, Executive Producer
A&L Goodbody has been announced as the official sponsor of the world premiere production of the stage musical version of popular movie 'Good Vibrations'.
'Good Vibrations', which tells the story of Terri Hooley, a radical, rebel and music-lover during Belfast in the 1970s, is running from 1st September – 6th October in the Lyric Theatre. This year also marks the 40th anniversary of Terri Hooley's legendary Belfast record store 'Good Vibrations'.
The production has been adapted for the stage by the same writers behind the film biopic – Colin Carberry and Glenn Patterson – for which the pair were nominated for Outstanding Debut at the 2014 BAFTA Film awards.
The award-winning Carberry and Patterson have also previously won Best Script at both the 2012 Dinard British Film Festival and the 2013 Irish Writers Guild Awards for the Good Vibrations film.
Michael Neill, Head of Office, A&L Goodbody Belfast, commented:
"For several years now the arts and culture sector in Northern Ireland has come under severe pressure due to continued funding cuts, so we're delighted to support the work of arts-based organisations and venues such as the Lyric Theatre.The Lyric is leading the way in bringing world-renowned performances to Belfast and is making a hugely valuable contribution to the cultural life of the city and wider Northern Ireland.We welcome this opportunity to support the local arts and culture sector and, in particular, the wider interests of our clients, staff and the community in which we work."
The Lyric Theatre's Executive Producer Jimmy Fay welcomed A&L Goodbody's support, saying:
"We are thrilled to partner with A&L Goodbody in support of our production of 'Good Vibrations'. This is an ambitious production for the Lyric Theatre, however, the partnership of Glenn Patterson and Colin Carberry has added a high level of musical professionalism and expertise, which has contributed greatly to the show being so well received in its previews.
A&L Goodbody has demonstrated its desire to support the arts and culture sector in Northern Ireland, and has helped us to deliver 'Good Vibrations' to the usual high production standards we have at the Lyric."
Date published: 6 September 2018