ALG advises on 12 Finance Dublin 'Deals of the Year 2021'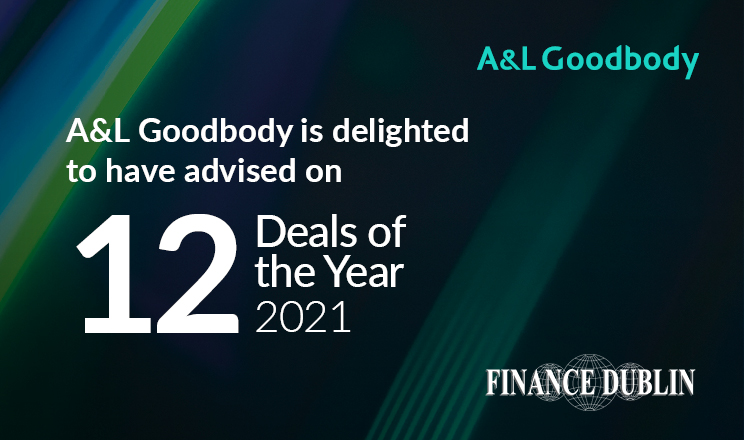 A&L Goodbody (ALG) advised on 12 of the winning 'Deals of the Year 2021' published by Finance Dublin, recognising the best in class Irish corporate finance deals. These winning deals showcase the firm's specialist financial services legal expertise across banking and finance transactions. Our role in these 'winning deals' reaffirms ALG's position as a leading advisor on the largest, most complex and innovative financing transactions.
Over 200 deals were nominated and these cover a broad range of corporate finance and IFS activity. This is a positive reflection of the continued growth in the Irish economy and more specifically in the corporate finance sector.
The winning categories and deals on which ALG advised include:
Aviation Finance
Nordic Aviation Capital DAC
Project Gilead – $3bn aviation leasing platform with GECAS and PIMCO
Debt Capital Markets
AIB Tier 2 inaugural Green Bond
daa finance plc, 2020 Financing-12 Year Bond & RCF
Equity Capital Markets
Draper Esprit Equity Secondary Offering
FINEOS Corporation Holdings plc
Financial Services
Acquisition of majority stake in AA Ireland from Carlyle/Cardinal Capital
Almalia Sanlam Active Shariah Global Equity
Chill Insurance & Ivernia Insurance by Livingbridge
Mergers & Acquisition
Allergan plc acquisition by AbbVie Inc.
Flutter Entertainment plc merger with The Stars Group
The acquisition of Applegreen by a consortium
Speaking about the winning M&A deal 'Allergan plc acquisition by AbbVie Inc.', Alan Casey and Ronan Lyons, Corporate and Capital Markets partners, said: "We were thrilled to partner with our friends and colleagues in Morgan Stanley in their role as financial advisor and lender to AbbVie on this complex transaction. It is not every year that we get the opportunity to advise on lending commitments of $38bn and we were very grateful for the trust and confidence Morgan Stanley placed in us. As ever, it was a pleasure working with the team."
Speaking about the winning Aviation Finance deal 'Project Gilead – $3bn aviation leasing platform with GECAS and PIMCO', David Berkery, Aviation & Transport Finance partner, said: "At a time when airline revenues were struggling, this deal represented a significant vote of confidence in the aircraft leasing industry and brought some much-needed liquidity to the sector as a whole. Sidecar joint ventures of this nature have become more and more popular in aviation over recent years and it is no surprise to see investors attracted to GECAS' world class expertise once again. Through a combined-effort of our Corporate and Aviation & Transport Finance teams, we were able to support GECAS through the creation of this complex equity structure and subsequently through the new platform's debt raise."
Date published: 21 May 2021