Catherine Duffy receives prestigious award from Trinity College Dublin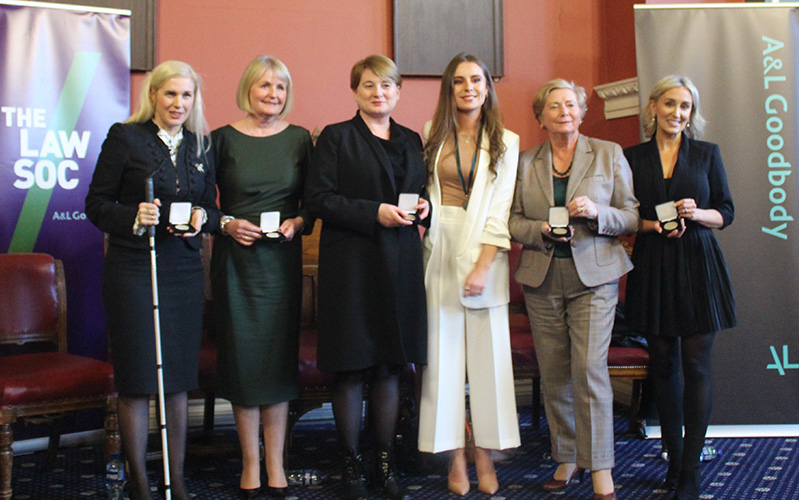 One of our senior partners and former Chairperson, Catherine Duffy, last night received the prestigious Praeses Elit award from Trinity College Law Society.
The Praeses Elit award recognises those who have advanced discourse in their line of work and who have been a source of inspiration to others, particularly young people. The award was founded by former President of Ireland, Mary Robinson and former recipients include Cherie Blair, FW De Klerk, Mary McAleese and Sir Bob Geldof.
Receiving the award at a Trinity Law Society event last night, Catherine said: "I'm honoured to have received this award from Trinity College Law Society. If I have inspired any young person to achieve their goals and ambitions in their working life, that's truly humbling. I have great admiration for our young people. They are our future."
Catherine was presented with the Praeses Elit award before taking part in Trinity Law Society's Women's Empowerment Panel event. Also speaking at the event were Ciaran De Buis, CEO of Women for Election, Frances Fitzgerald, MEP and former Tánaiste, Sinead Kane, visually impaired athlete and world record holder, and Marissa Carter, founder of Cocoa Brown Tan.
Catherine is a partner in and former head of our Finance Department and our Aviation & Transport Finance practice. She served as Chair of ALG from 2016 to 2019. Catherine was recognised as one of Ireland's most influential and successful business women at the Women's Executive Network (WXN) 2017 Awards.
Date published: 9 March 2020