Chartered Accountants Ulster Society and A&L Goodbody announce new partnership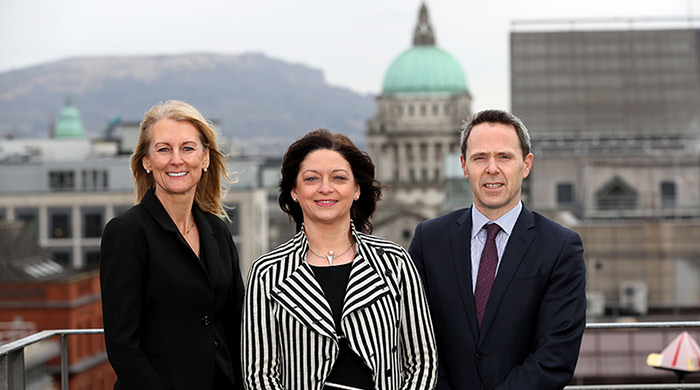 Photo includes L-R: Zara Duffy, Head of Chartered Accountants Northern Ireland; Pamela McCreedy, Chair, Chartered Accountants Ulster Society; and Michael Neill, Partner, A&L Goodbody.
The partnership will see A&L Goodbody supporting a series of Chartered Accountants Ulster Society's key events during the year. A&L Goodbody will also provide a new series of events and webcasts examining a range of legal issues that are relevant to the accounting profession.
The jointly branded seminars for local Chartered Accountants will commence in May on the topic of GDPR. Other subjects to be covered in the practical seminar series include corporate disputes, insolvency, restructuring and employment law.
The Ulster Society is a district society of Chartered Accountants Ireland, the largest professional body of accountants on the island of Ireland. It currently represents 4,500 members across Northern Ireland.
A&L Goodbody is internationally recognised as one of the leading corporate law firms in Ireland, and was only last week named Corporate Law Firm of the Year at the Insider Dealmakers Awards.
The new agreement will see the two organisations partnering over the next three years.
Pamela McCreedy, Chair of Chartered Accountants Ulster Society said: "We are delighted to appoint A&L Goodbody as a key partner and we look forward to a long and constructive association. A&L Goodbody will bring expertise, along with a breadth of experience and insight which our members will greatly appreciate, whether they work in practice, in industry or the voluntary sector. The series of legal webcasts are an important part of our calendar and carry a tremendous range of benefits for our members right across Northern Ireland."
Michael Neill, Partner, A&L Goodbody said: "We very much welcome this opportunity to partner with our colleagues in the accountancy profession in Northern Ireland – many of whom we work closely with on a daily basis. As local businesses continue to navigate their way through uncertain territory amid the ongoing Brexit discussions and political stalemate in Northern Ireland, the role of the professional advisor will become increasingly important. For that reason, we see great value in the sharing of knowledge between the legal and accountancy professions and look forward to the mutual benefits that this partnership will bring."
Date published: 29 March 2018