Diversity, future of law - Student legal convention 2019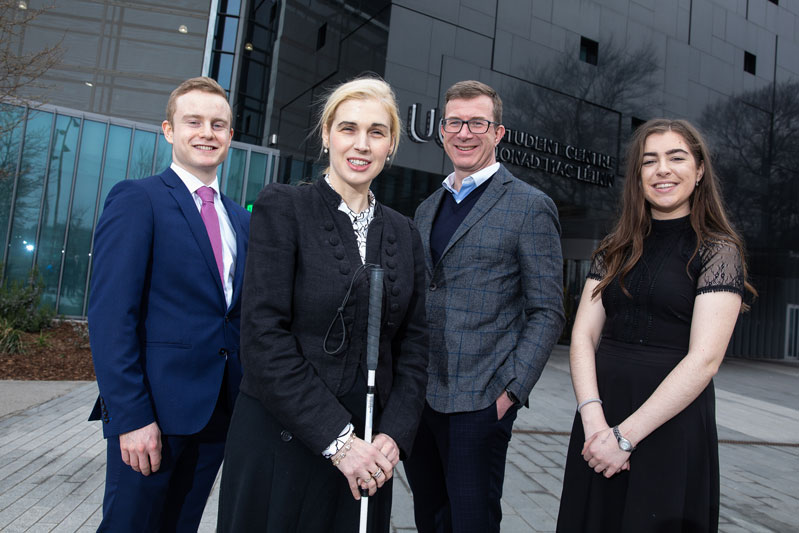 Pictured L-R: Rowan Kelleher, SLC coordinator, Dr. Sinead Kane, Master of Ceremony; Julian Yarr, Managing Partner, A&L Goodbody; and Andrea Whelton, SLC Coordinator
'The Future of Law' was the theme of the sixth annual UCD Student Legal Convention held yesterday. More than 100 law students from universities across Ireland attended the event and heard talks and debates on topics such as diversity & inclusion, work-life balance and technology & innovation.
Julian Yarr, managing partner at A&L Goodbody said: "Topics such as diversity & inclusion and technology are at the core of societal and business change. None more so than in the legal industry. The most progressive law firms see these issues as opportunities. We know that being a diverse and inclusive business makes us a better place to work. Harnessing technology to drive innovation means that we can deliver new and more efficient services to our clients. Today gave us a fascinating insight into the future of law in Ireland."
The student led event, supported by A&L Goodbody, was chaired by adventurer Dr Sinead Kane. Other speakers included Dale Sunderland, deputy commissioner, Irish Data Protection Commission; Peter Ward, chairperson, FLAC; Ciarán Finlay, policy & public affairs advisor, National Disability Authority; and Sarah Keane, president, Olympic Council of Ireland, CEO, Swim Ireland.
This article first appeared in The Irish Examiner on 08 March 2019
Date published: 11 March 2019