Primary School Pupils Help Suas and A&L Goodbody Celebrate 3 Years of Successful Literacy Partnership
Primary School Pupils Help Suas and A&L Goodbody Celebrate 3 Years of Successful Literacy Partnership (18 December 2015)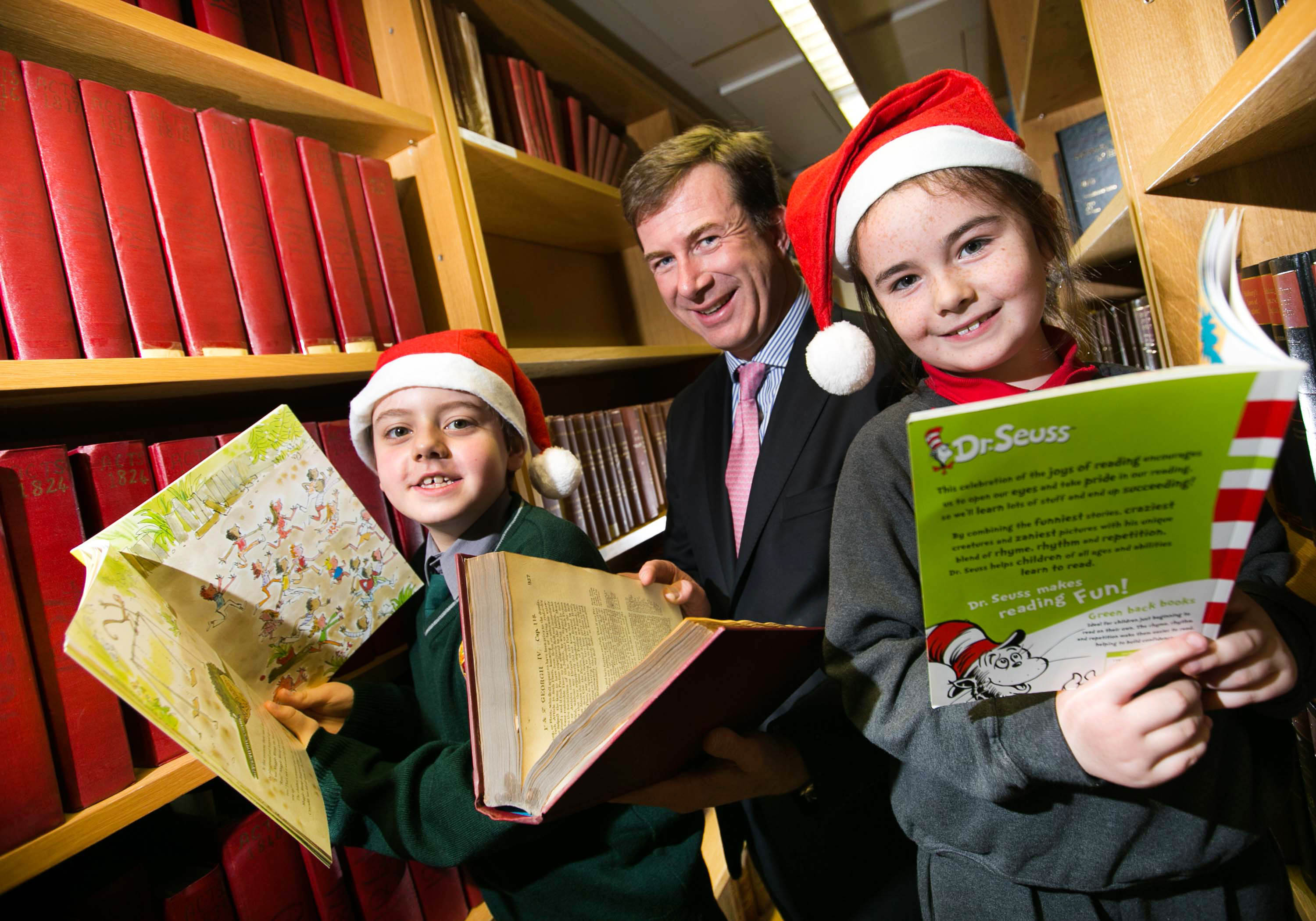 Pictured from L to R: Evan Conroy, St. Laurence O'Toole's Boys National School, Julian Yarr, Managing Partner of A&L Goodbody and Brooke Kelly, St. Joseph's Co-ed Primary School.
Education charity Suas and leading corporate law firm A&L Goodbody celebrated three years of their partnership at a special event held at A&L Goodbody's offices on Wednesday 16th of December. The event also recognised the achievement of 26 pupils from St. Joseph's Co-ed Primary School and St. Laurence O'Toole's Boys National School, who were the most recent students to complete the Suas Literacy Support programme.
A&L Goodbody and Suas formed a 3 year partnership in 2013 aimed at improving declining levels of literacy for young people in the law firm's local community through the delivery of literacy support programmes. Since the partnership formed, 158 A&L Goodbody people have volunteered for the 8 week paired reading literacy support programme where they work with 8-14 year olds to help them enhance their literacy levels.
Evaluations show that children who have participated in the programme have seen their rate of progress in literacy and reading more than double. General findings since 2013 specifically for the A&L Goodbody support literacy projects are as follows: 70% of young people involved have improved their literacy levels; 99% of all schoolchildren enjoyed the sessions; 83% of schoolchildren believe they are better at reading; 60% of schoolchildren believe they read more often; 77% of schoolchildren are now happy to read out loud.
Allison Aldred, Chief Executive Officer from Suas said: "Apart from the great outcomes our partnership with A&L Goodbody has delivered for our pupils the funding and support of A&L Goodbody, has enabled Suas to increase its impact on a national scale by opening up projects in other regions and cities and enhance the overall effectiveness and impact of the programme. I'm delighted to say that since we started our partnership A&L Goodbody has helped support 2,000 young people across the country as the lead partner to the Literacy Support Programme, through almost €150,000 in funding, in addition to significant pro-bono legal counsel and volunteering."
Managing Partner of A&L Goodbody, Julian Yarr added, "We're very proud of our partnership with Suas and of the contribution our people have made to the Literacy Support Programme, which aims to create positive opportunities and support for those most in need in our community. We believe that individual mentoring can help to improve literacy levels, and just as importantly, the confidence, of young children in our community. We look forward to continuing to play our part in tackling this important social issue."
A&L Goodbody's role and impact in this community project has been widely acknowledged and applauded by the wider community. This includes: endorsement from the Minster for Children at the launch event for the partnership, the Lord Mayor of Dublin hosting a graduation event for all participants of the programme and coverage of the partnership on our national radio broadcaster. A&L Goodbody also won Best Community Programme for their support of the Suas Literacy Programme at the Chambers Ireland CSR Awards 2013.
Date published: 18 December 2015