ALG's annual review of Irish merger deals notified to the CCPC in 2018
A&L Goodbody has published our annual review of merger deals notified to Ireland's Competition and Consumer Protection Commission (CCPC) in 2018.
The key findings of the review are:
There were 98 merger notifications to the CCPC in 2018, an increase of 26 notifications (36%) compared to 2017
Of these 98 merger notifications, the CCPC issued 85 clearances while 13 notifications remain active into 2019. No notifications were withdrawn by the parties
No transactions were prohibited by the CCPC in 2018, the same as in 2017
Despite the significant rise, the time taken to review 'no-issue' Phase 1 merger notifications remained similar to 2017 at 33 calendar days. However, extended Phase 1 and Phase 2 reviews took longer
The most frequently notified deals to the CCPC were in real estate, financial services, healthcare, and information and communications
The number of new media mergers notified to the CCPC decreased with four being notified in 2018, compared to five in 2017
The Review of Irish Merger Control in 2018 is published by A&L Goodbody's EU, Competition & Procurement group.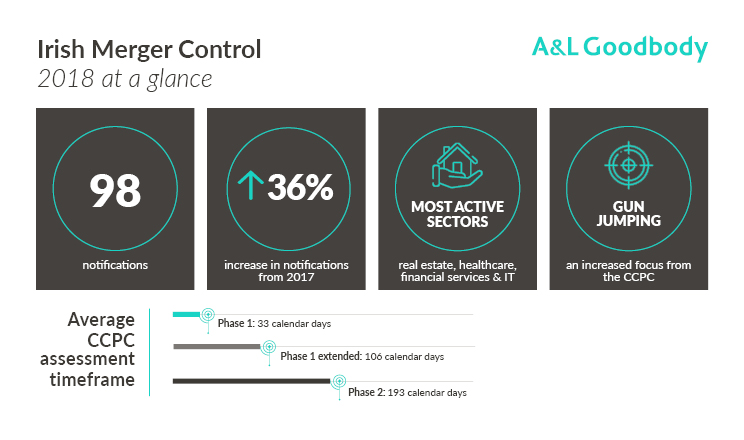 What to expect in 2019 – the ALG view
New thresholds
New merger notification thresholds came into force on 1 January 2019. We would expect these new thresholds to lead to fewer notifications made to the CCPC. However, turnover thresholds are not the only stipulation for notification. The CCPC may still scrutinise deals even if the turnovers do not reach the new higher thresholds. Businesses will need to double check whether all deals raise competition issues irrespective of size.
Proposed simplified procedures
The CCPC is working on a simplified merger review process which is likely to come into force this year. This will probably speed up the review of no-issue Phase 1 notifications. However, we anticipate that the CCPC will conduct more extended Phase 1 and Phase 2 reviews, which is a current trend over the last couple of years.
Gun jumping
Gun jumping is where a merging business fails to notify a notifiable merger to the relevant competition agency or implements the transaction before approval by such an agency – in Ireland's case, the CCPC. The CCPC, European Commission and other global competition regulators are placing increased focus on monitoring compliance with notification requirements. We would expect to see more investigations being carried out in 2019. The penalties are significant so businesses should ensure they are well aware of the notification requirements.
For further information, contact Dr Vincent Power, Partner, or any member of the EU, Competition & Procurement team at A&L Goodbody.
Date published: 11 January 2019