A&L Goodbody ranked Ireland's top legal advisor for M&A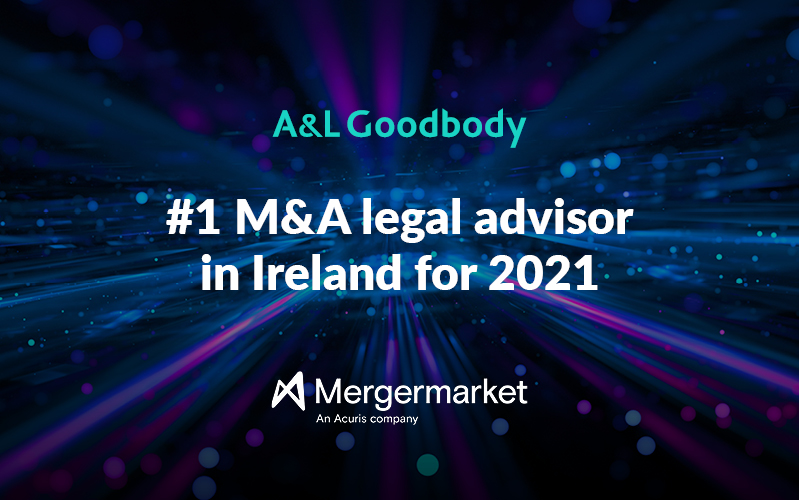 A&L Goodbody (ALG) has been ranked the number one Irish law firm for mergers and acquisitions (M&A) by deal value for 2021, by the leading publication Mergermarket.
Commenting on the report findings, Richard Grey, Head of M&A said: "We had one of our busiest years ever in 2021 acting on a large number of domestic and international transactions. While we saw activity levels increase across all sectors there was particularly high levels of activity in the financial services, technology, pharma and renewable energy sectors. This ranking is yet another strong endorsement of our domestic and international reputation as Ireland's leading M&A legal advisor and reflects our commitment to provide our clients with the highest quality advice and service."
Prominent deals led by ALG's M&A team during 2021 included advising domestic and international clients such as: UDG Healthcare plc on its £2.8bn takeover by Clayton, Dubilier & Rice, NatWest on the wind down of Ulster Bank, which included the entry into arrangements for the sale of Ulster Bank's commercial loan book to AIB for €4.2bn and the sale of Ulster Bank's performing loan book to PTSB; Pilgrim's Pride Corporation on its pending $952m acquisition of Kerry Group's meats and meal business; CVC Capital Partners on the long-term strategic partnership with Six Nations Rugby; AIB on its acquisition of Goodbody Stockbrokers; ICON plc on its acquisition of PRA Health Sciences; ESB on its renewable energy joint venture with Coillte, FuturEnergy Ireland; and Tesco Ireland on the acquisition of Galway-based grocery retailer Joyce's Supermarkets.
Mergermarket (an Acuris company) is an independent mergers and acquisitions intelligence service with a global library of historical M&A transactions. Read Mergermarket's Global & Regional M&A Report for 2021 here.
Date published: 20 January 2022