ALG sponsors Irish Renewable Gas Conference 2023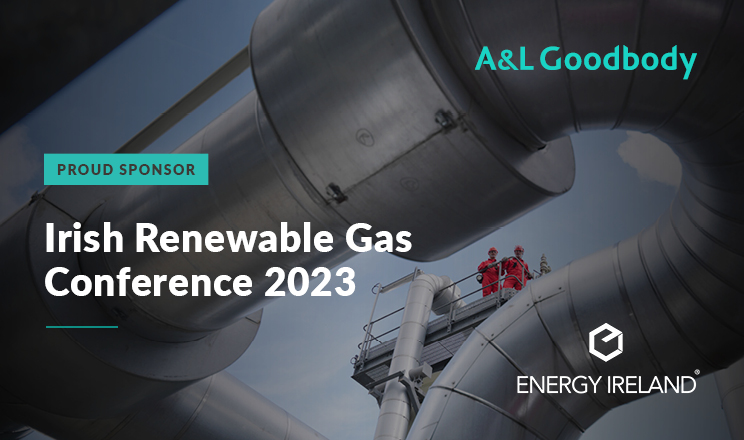 On 7 September, A&L Goodbody (ALG) sponsored the Irish Renewable Gas Conference 2023 in The Gibson Hotel. The conference, hosted by Energy Ireland, focussed on the opportunities and challenges of the future of renewable gas in Ireland, as well as the key developments in the gas sector and potential options for decarbonising Ireland's natural gas infrastructure.
The conference opened with a ministerial message from Eamon Ryan, TD, Minister for Environment, Climate and Communications, along with a warm welcome from the conference chair, Padraig Fleming, Gas Networks Ireland. Ross Moore, partner and head of ALG's Energy, Infrastructure & Natural Resources team, joined almost 200 industry leaders, speaking at the conference on the topic of which legal aspects of biomethane production and supply.
Morning session topics:
Biomethane in the REPowerEU, the way forward
Biljana Kulisic - Policy Officer, Bioenergy, European Commission
Transforming Ireland's gas network for a sustainable energy future
Cathal Marley - Chief Executive Officer, Gas Networks Ireland
Decarbonising Ireland's gas network and market
Karen Kavanagh - Director, Networks & Economic Regulation, Commission for Regulation of Utilities
Clean hydrogen: delivering a low carbon energy infrastructure
Kamila Waciega - Director, Energy & Infrastructure Policy, Hydrogen Europe
The environmental and economic benefits of biogas production in Ireland
Ciara Beausang - Research Officer, Teagasc
Legal aspects of biomethane production and supply
Ross Moore - Partner, ALG
Biomethane: an essential role for Denmark's green transition and security of supply
Christian Bendrup Faurholt - Country Lead, Energinet
Green hydrogen: production, storage and power generation
Oonagh O'Grady - Director, Power to X, SSE
From fossil fuel to biomethane
Tom O'Brien - Managing Director, Nephin Energy
Afternoon session topics:
Chair: Stephen Robb - Renewables Editor, Irish Farmers Journal
Developing the biomethane sector: lessons from global leaders
Charlotte Morton - Chief Executive, World Biogas Association
The potential for biogas and biomethane in Ireland
Luis Gay-Tarazona - Programme Manager, Bioenergy, Sustainable Energy Authority of Ireland
Overcoming the barriers to developing a biomethane sector in Ireland
Richard Kennedy - CEO, Carbon AMS
Developing a biomethane sector in Ireland (panel discussion)
Karen Doyle - Head of Business Development, Gas Networks Ireland
Seán Finan - Chief Executive Officer, Irish BioEnergy Association
Philip Hannon - Director of Policy, Liquid Gas Ireland
Richard Kennedy - CEO, Carbon AMS
Barry Quinlan - Assistant Secretary, Department of the Environment, Climate and Communications
Date published: 7 September 2023