James Grennan is a partner in A&L Goodbody's Corporate department and Head of the Insurance group. From 1995 to 1999 James managed A&L Goodbody's London office.
His area of particular expertise is the insurance industry. His practice embraces all aspects of insurance law and regulation including the set up and authorisation of insurers, ongoing regulation, the provision of cross-border services, sale and purchase of insurance companies and insurance businesses, captive insurance, authorisation and regulation of insurance intermediaries, contracts, regulatory investigations and enforcement actions and statutory compensation schemes. He advises life and non-life insurers, health insurers, reinsurers, captives and intermediaries.
He played a major role in the A&L Goodbody legal team that advised the Irish Government's Department of Finance on the establishment of the Irish Financial Regulator. He was also instrumental in having Irish law amended to facilitate the operations of life assurers in the International Financial Services Centre and in drafting other legislation to address insurance industry concerns. He has advised on many of the most significant insurance transactions and developments in recent decades.
Areas of Expertise
Experience Advising:
XL Group on a wide range of matters including: the first combined portfolio transfer and cross-border merger conducted in Ireland, migration of its New York Stock Exchange listed holding company to and from Ireland, the US $4bn acquisition of Catlin Group, the issuance of US$1bn of Solvency II-compliant subordinated debt and Brexit solution planning, including the migration of XL Insurance Company SE from the UK to Ireland and the related aspects of AXA's takeover of the XL Group.
AIG Group on a wide range of matters including: transfer of its Irish business to AIG Europe Limited, the cross-border merger of its Irish holding company into a UK holding company and the transfer of general insurance business from Chartis Excess to a Chartis Bermuda insurer using an Irish High Court scheme of arrangement, a mechanism unprecedented in Ireland or the UK (this transaction was an important element of the Financial Times recognising A&L Goodbody as Ireland's most innovative law firm).
Numerous UK and international insurers on Brexit planning and implementing Brexit plans, including establishment of new Irish insurers by BUPA, Berkshire Hathaway, The Standard Club and North of England Protecting and Indemnity Association, significant expansion of existing Irish operations of insurers including Prudential Assurance and Standard Life International to accommodate EU business previously written by UK affiliates, establishment of Irish branches by insurers wishing to target the Irish market after Brexit, establishment and authorisation of insurance intermediaries and Irish insurers on contingency plans in relation to the UK market.
CNP Europe Life on an innovative longevity risk transfer arrangement with Coca-Cola involving a novel structure which he devised.
Numerous insurers on portfolio transfers, restructuring and cross-border mergers, including complex transfers for Aviva Life & Pensions Ireland and Partner Reinsurance.
Zurich Insurance Group on the centralisation of its European general insurance business on to an Ireland platform, disposal of non-core insurance businesses and supervision of the Irish general insurance "super-carrier", Zurich Insurance.
Arch Capital Group on establishment, authorisation and regulation of reinsurance, mortgage insurance and insurance intermediary companies and on Brexit solutions, including expanding its Irish insurance carrier to write the EU insurance business previously written by its UK carrier.
Health Insurer VHI on raising Solvency I and Solvency II-compliant subordinated debt from a private source.
Numerous insurers including, Combined Insurance Company, ALICO Life International, Arch Reinsurance Europe and Intesa San Paolo Life in the defense of complex regulatory enforcement actions alleging violation of financial regulation requirements.
Insurance industry representative bodies on numerous legal and regulatory issues including Insurance Ireland on a successful challenge to a proposed government levy on the insurance industry and drafting an amendment (accepted by the government) to legislation implementing gender equality legislation.
Three major insurance groups on conversion of their Irish operations to European companies (SEs).
Market Recommendations
"He is good to deal with, very responsive, pragmatic, client-focused and commercial. He is able to distil complex things and explain them in a way that it's easy for us to understand." (Chambers Europe 2023)
"James is clever, sharp, funny and client-focused. He is particularly adept in regulatory insurance matters. He has also very good soft skills – he does not patronise." (IFLR1000 2022)
"James Grennan really is "one in a million" in terms of the depth of his knowledge, expertise and ability to understand the most complex of issues and provide solutions." (Legal 500 2022)
"A high level of technical expertise and knowledge and is unique in his ability to solve the most complex and novel legal problems." (Chambers Europe 2022)
"A longstanding guru in the sector, with an unrivalled depth of experience. He is highly user friendly, creative and solutions oriented." (Legal 500 2021)
Professional activities
James is a member of the Law Society of Ireland and Dublin Solicitors Bar Association. James is President of the Management of Law Firms Commission, a member of the Governing Board and a member of the ESG task force at the Union Internationale des Advocats (International Association of Lawyers). He is a CEDR qualified mediator and the contributor on insurance law to the Ireland for Law initiative. James is also a regular speaker on insurance topics both in Ireland and abroad.
Education
Solicitor, Law Society of Ireland
BA, Trinity College Dublin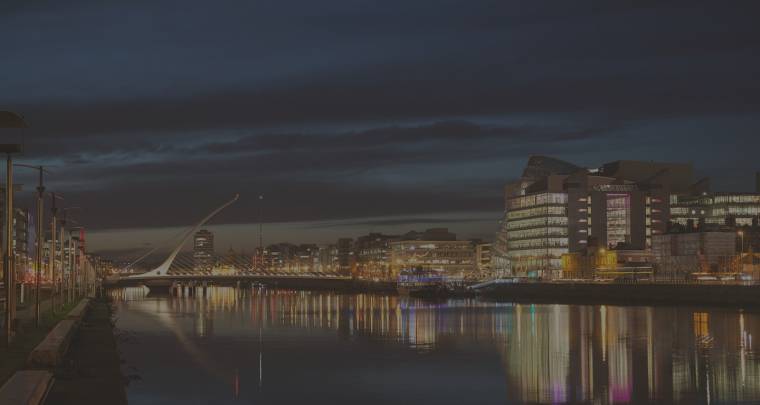 James Grennan
Partner, Insurance & Reinsurance
Dublin