Diversity & Inclusion

At A&L Goodbody (ALG) Diversity and Inclusion is about respecting, valuing and leveraging the differences that exist in our employee base and the domestic and international markets in which we do business.

Mutual respect and collaboration amongst our colleagues is key to the culture of our firm and we are committed to ensuring that that everyone is treated with respect, fairness and integrity.
Every one of our employees bring a set of special talents and perspectives to the table. We celebrate diverse thinking by creating a culture where all of our people are encouraged to draw upon their unique backgrounds, interests and viewpoints.
This diverse and inclusive approach benefits our people and our clients and therefore our business. As the diversity of our client base continues to grow it is imperative that we have a diverse and inclusive workforce to reflect that client base. Different opinions, perspectives and cultures are powerful in international business.
Diversity and Inclusion at A&L Goodbody
As part of the our commitment to equality and fostering a culture of inclusion, we established a Diversity & Inclusion Group (D&I) which meets regularly to consider different aspects of diversity including disability, sexual orientation, gender, family status, ethnicity and age. Our goal, ultimately, is to ensure that our policies and practices match our commitment to equality and inclusion.
OneALG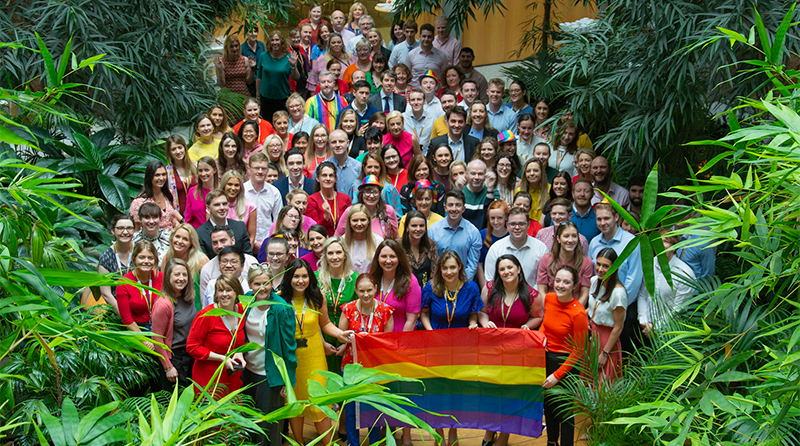 OneALG is our LGBT+ allies group which is open to everyone who champions equality and diversity in ALG and beyond. At ALG we are committed to creating an inclusive and supportive environment where all our people can thrive together and be their unique, authentic selves at work.
Empower. Support. Change.
OneALG is focused on empowering LGBT+ employees, contributing to inclusive firm policies and procedures, supporting the LGBT+ community through impactful pro bono projects and effecting change through educational initiatives.
OneALG Allies
An ally recognizes the importance of everyone feeling safe, respected and welcomed in the workplace. An ally stands up for others and challenges inappropriate behavior. We run a series of OneALG workshops throughout the year where our people can earn their OneALG Ally Stripes and are provided with the tools to become more confident and active LGBT+ allies in the workplace and beyond.

Our OneALG Committee
Pride in Who We Are
We celebrate PRIDE annually through a number of internal initiatives and events. We aim to engage, educate and empower our people on LGBT+ issues and encourage active ally engagement.

OUTLaw Network
We are proud to be a founding firm of the OUTLaw Network. OUTLaw aims to generate discussion and debate through various social and educational events to promote and foster the inclusion of LGBT+ individuals and allies across the Irish legal sector.

The 30% Club
We are members of The 30% Club, a collaborative business-led effort to make real change in Ireland, aiming towards 30% female representation in senior management by 2020. We are proud to say that over 30% of our partners are female.
WXN
We are a sponsor member of the Women's Executive Network, an organisation dedicated to the advancement and recognition of women in management, executive, professional and board roles.
Trinity Centre for People with Disabilities (TCPID)
We support the work placement programme with TCPID at Trinity College.
Access programmes
Click here to read about our support of the Trinity Access Programme (TAP) and DCU Access programmes which forms part of our Step Up Community programme.
Best National Firm for Diversity
The Firm was awarded Best National Firm in a Diversity category at the European Women in Business Legal Awards 2017 in London.