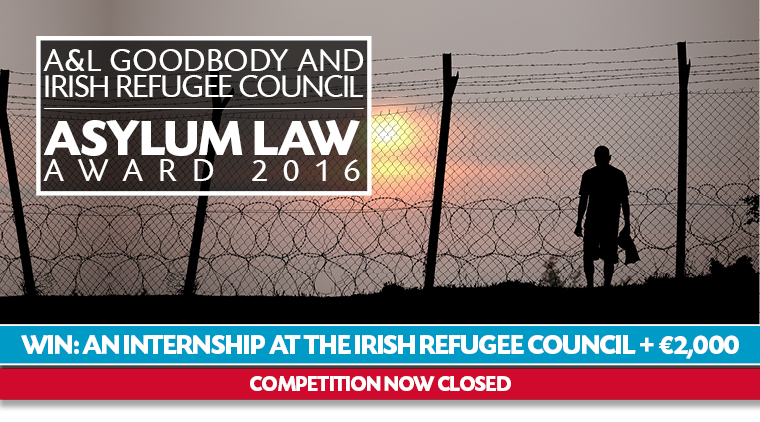 The A&L Goodbody and Irish Refugee Council Asylum Law Award 2016 provides UCD students with the opportunity to gain invaluable legal expertise before applying for a career in law. Put your legal drafting and advocacy skills to use in our case study and gain an opportunity to work with the Irish Refugee Council and assist individuals who are seeking refugee status. Exposure to this type of work experience can be an ideal first step in your legal career, and we know how hard it can be to get this type of experience so here's your chance.
A&L Goodbody's collaboration with the Irish Refugee Council (IRC)

Since January 2013, A&L Goodbody has embarked on a collaborative project with the Irish Refugee Council's Independent Law Centre. A&L Goodbody lawyers advise and represent the Law Centre clients in the first interview stage of the asylum process. To date, 82 A&L Goodbody lawyers have delivered 2841 pro bono hours and have assisted 23 refugee cases. A&LG was recognised at the 2015 European Pro Bono Forum in Rome and received the European Award for Local Pro Bono Impact for this innovative programme.
The Task
Your task is to review a case study and draft a written legal submission of no more than 2,500 words to the Office of the Refugee Applications Commissioner in support of your client's application for refugee status pursuant to the Refugee Act, 1996 (as amended).
The Prize
An internship: A four week internship with the Irish Refugee Council, giving you exposure to real life cases and a first step in your legal career.
€2,000 in cash: Towards your educational fees - or that college loan!
The Judging Panel
Your idea will be reviewed by a judging panel made up of the following industry professionals:
Brian Collins, Senior Solicitor, Irish Refugee Council
Liam Thornton, Human Rights Lecturer, University College Dublin
Eamonn Conlon, Partner and Head of Corporate Responsibility, A&L Goodbody
Application details
This competition is now closed. Submissions were due on Friday, 18th March 2016.
Download the entry pack which includes the case study and some helpful resources. Make your case in less than 2500 words. Marks will be given for clear structure, attention to detail, ability to be succinct yet accurate, creative arguments and practical thinking.
Special UCD lecture to help write your entry!
"An Introduction to Irish Asylum Law" will take place on Tuesday 16th February from 6pm to 8pm in the William Fry Theatre, UCD Sutherland School of Law.
This introductory seminar on Irish asylum law may be of use to those interested in submitting an entry to the Asylum Law Award 2016. It may be helpful in relation to constructing a response to the case study as posed. This seminar, delivered by Dr Liam Thornton, UCD Sutherland School of Law, will explore:
The legal definition of refugee, including:
What is a 'well-founded fear'?;
What is meant by the phrase 'persecution'?;
Exploration of the nexus grounds of particular relevance to the problem question; and
Exclusion from refugee status.
All UCD students (law and non-law students) considering applying for the Asylum Law Award 2016 are welcome to attend this seminar.