Minimum Safeguards – understanding the EU Taxonomy Requirements
Minimum safeguards – understanding the EU Taxonomy Requirements
The Taxonomy Regulation[1] is a complex piece of legislation. Its aim is to reorient capital flows towards sustainable activities through the establishment of a classification system for environmentally sustainable economic activities. While the main focus of this regulation is on environmental issues and more specifically the six environmental objectives set out in Article 9, social and governance considerations also need to be taken into account when determining the proportion of a company's activities that are aligned with the taxonomy.
When determining taxonomy alignment, there are four criteria that need to be satisfied, three of these relate to the environmental objectives referred to above, see Table 1 for details of the six environmental objectives and the four criteria. It is the fourth element that this article is focused on – compliance with minimum safeguards.
Table 1
| | |
| --- | --- |
| No | Environmental objectives |
| 1 | Climate change mitigation |
| 2 | Climate change adaptation |
| 3 | Sustainable use and protection of water and marine resources |
| 4 | Transition to a circular economy |
| 5 | Pollution prevention and control |
| 6 | Protection and restoration of biodiversity and ecosystems |
Table 2
| | |
| --- | --- |
| No | Criteria for environmentally sustainable economic activities |
| 1 | Contributes substantially to one or more of the environmental objectives listed above |
| 2 | Does not significantly harm any of the environmental objectives listed above |
| 3 | Is carried out in compliance with the minimum safeguards |
| 4 | Complies with technical screening criteria that have been established by the Commission |
What does compliance with minimum safeguards actually mean? This is a question that companies are grappling with as obligations to report taxonomy alignment are kicking in. Article 18 of the Taxonomy Regulation sets out high level information on the minimum safeguards that companies need to comply with in order for their activities to be considered to be taxonomy aligned, see figure 1.
Figure 1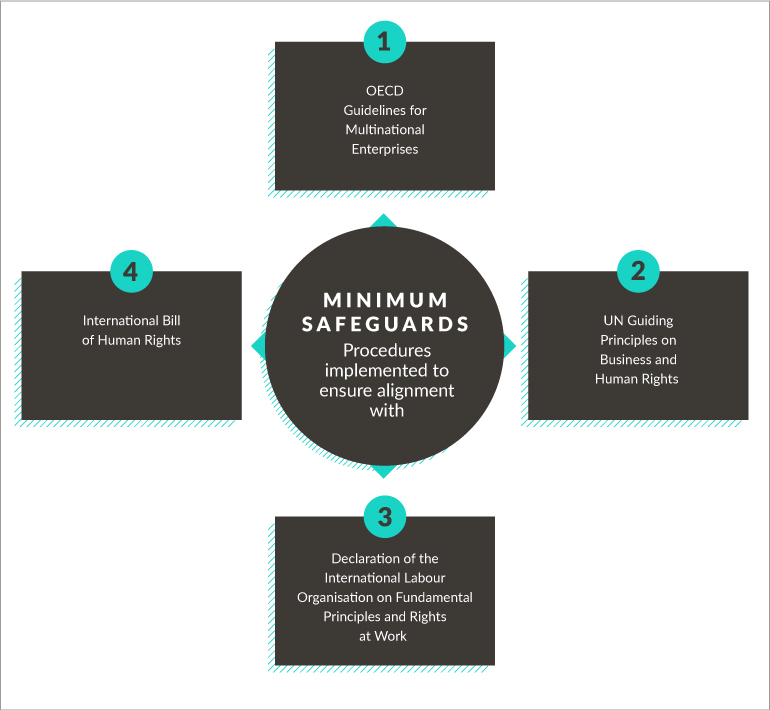 From a practical perspective this means that companies need to identify the procedures in place to ensure compliance with the governance standards and social norms referenced in each of these documents. Understanding the topics covered by each of these documents is key to being able to determine whether a company has procedures in place to comply with the minimum safeguard requirements and ultimately be in a position to report on the taxonomy alignment of its economic activities.
This analysis gets more complex when the information being disclosed does not relate to the reporting company itself but instead relates to the companies it is investing in, insuring, or providing financing to. No matter who is seeking to ensure compliance it is the due diligence processes and procedures that are in place that need to be evaluated.
In October 2022, the Platform on Sustainable Finance published its final report on minimum safeguards.[3] While this report sets out advice for the European Commission on the functioning of the minimum safeguard provisions of the Taxonomy Regulation and this advice is not binding it can be used by companies to navigate how these provisions can be applied in practice. The report identifies four substantive topics from the OECD guidelines for multinational enterprises (the OECD guidelines); the UN Guiding Principles on Business and Human Rights (the UNGPs); the International Labour Organisation core conventions (the ILO Conventions); and the International Bill of Human Rights (IBHR) being:
human rights (including labour and consumer rights)
bribery, bribe solicitation and extortion
taxation
fair compensation
In addition to setting out the legal environment in respect of each of these substantive topics, the Platform's report also considers the minimum safeguard provisions as part of the EU's broader regulatory landscape and how these provisions link to the obligations set down in the Sustainable Finance Disclosures Regulation[4], the Corporate Sustainability Reporting Directive[5] and the proposals detailed in the draft Corporate Sustainability Due Diligence Directive. This analysis will be useful to those wanting to understand the interaction between each of these pieces of legislation/legislative proposals.
For those looking to evidence compliance with minimum safeguards a comprehensive due diligence framework that takes into account the issues covered by the OECD guidelines, the UNGPs, the ILO Conventions and the IBHR is crucial. We would suggest that understanding which issues are already covered by legislation and where there may be gaps is a useful starting point. Those that are required or choose to disclose the taxonomy alignment of their economic activities should also consider whether any updates may need to be made to their due diligence processes and procedures to ensure compliance with these provisions.
For more information in relation to this topic, please contact Jill Shaw, ESG & Sustainability Lead or visit our ESG & Sustainability hub.
Date published: 28 June 2023
---