Asset Management & Investment Funds
Our Asset Management & Investment Funds team is a top ranked, experienced, and dynamic group of specialists, offering a comprehensive legal, regulatory and taxation service to our clients in Ireland and internationally. Clients include international investment banks, asset managers, investors in funds such as pension funds and insurance companies, fund administration groups, global custodians, prime brokers and other financial services organisations.
Team expertise covers all aspects of the Investment Funds industry including:
The creation and authorisation of funds and financial service organisations in Ireland and other jurisdictions.
Drafting and negotiating all types of fund documentation including derivative and prime broker related arrangements.
Dispute resolution related to the Investment Funds sector.
Compliance and corporate governance advices specific to Investment Funds sector.
Tailored training and induction programmes for fund management company directors and other officers.
The team also works closely with the Firm's tax and litigation departments, to deliver fully rounded advice based on deep funds industry knowledge and experience.
Recognising the speed and volume of regulatory change in this area, our team issues a monthly Frontpage: Asset Management & Investment Funds Bulletin which provides a unique update of legal and regulatory developments in Irish and EU law which impacts the Investment Funds industry. If you are interested in receiving our monthly bulletin please contact Nollaig Greene.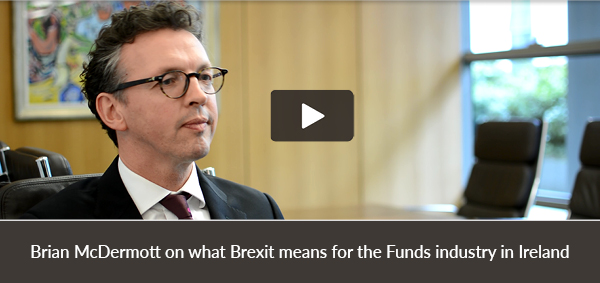 Additional Services:
Experience
Deutsche Bank AG

on the establishment and authorisation of their Irish exchange traded fund (ETF) platform and structuring of a broad range of ETF products, including swap based, physical replicating, smart beta and active ETFs.

Oaktree Capital and Targeted Investment Opportunities plc

in relation to the conversion of Targeted Investment Opportunities from a public limited company to an ICAV and appointing an external AIFM.

Blackstone

on the establishment of Irish QIAIF unit trusts acquiring Irish property assets.

Fideuram Asset Management (Ireland)

on the establishment of a London branch pursuant to the UCITS Directive.

Van Eck Associates Corporation

on the establishment and authorisation of their Irish UCITS management company and a physical ETF platform.

MitonOptimal Group

in respect of the setup and ongoing maintenance of its large Irish UCITS platform.
View all