A&L Goodbody announces senior appointments at Belfast office
A&L Goodbody (ALG) has announced three senior appointments at its Belfast office.
Sarah Dugdale and John Tougher have been appointed partner in the firm's Corporate and M&A and Real Estate teams respectively. In a first for ALG in Northern Ireland, meanwhile, Shirley Blair has been appointed to the senior advisory role of 'Of Counsel' in the Employment and Incentives team.
The appointments take ALG's senior leadership team in Northern Ireland to 21, charged with leading a team of over 120 lawyers and business support professionals in its Belfast office.
Michael Neill, Head of ALG's Belfast office, said: "These senior level appointments reflect ALG's commitment to the ongoing success of our Belfast office. Investing in expanding and developing our 120-strong team in Belfast to bring our clients the most relevant and timely legal expertise will remain core to our strategy in the months ahead."
Michael said ALG is "exceptionally proud" to have such a breadth of talent across its entire team in Belfast.
"Each leading lawyers in their own right, Sarah, John and Shirley are outstanding examples of the unwavering energy, commercial acumen and industry-leading technical expertise our clients have come to expect from ALG," he said. "They set an excellent example to the wealth of up-and-coming talent within our firm and will continue to play a key role in their development going forward."
Sarah specialises in corporate transactions, and corporate advisory matters. Sarah has extensive experience advising on local and international acquisitions and disposals, and private equity and venture capital investments across a range of sectors. She also advises on group reorganisations, joint venture and shareholders' agreements, share options and incentives and other shareholder and partnership matters along with providing general corporate law, governance and compliance advice.
John has over a decade of experience in dealing with commercial property matters in both the public and private sectors including all aspects of specialist Landlord and Tenant advice – site acquisition, assembly, development funding and disposal. John is also one of the leading property lawyers working in the energy sector in Northern Ireland and advises utilities, developers and lenders with a particular focus on on-shore and off-shore wind. In addition, he advises many of the leading insolvency practitioners in the jurisdiction in relation to property insolvency matters.
With over 20 years' experience, Shirley advises on the full spectrum of contentious and non-contentious Employment and Education law matters for clients in all sectors. Shirley specialises in complex discrimination proceedings in in the Tribunals and NI Court of Appeal and is a qualified Solicitor Advocate. She has gained substantial expertise in High Court litigation, particularly disputes pertaining to restrictive covenants, injunctions and Judicial Reviews concerning schools. Shirley is the NI Chamber of Commerce representative on the Employee Relations Roundtable – a federation of the Chamber, CBI, IoD and the LRA that lobbies the NI Government. She is the NI contributing author to the book "Professional Secrecy of Lawyers in Europe".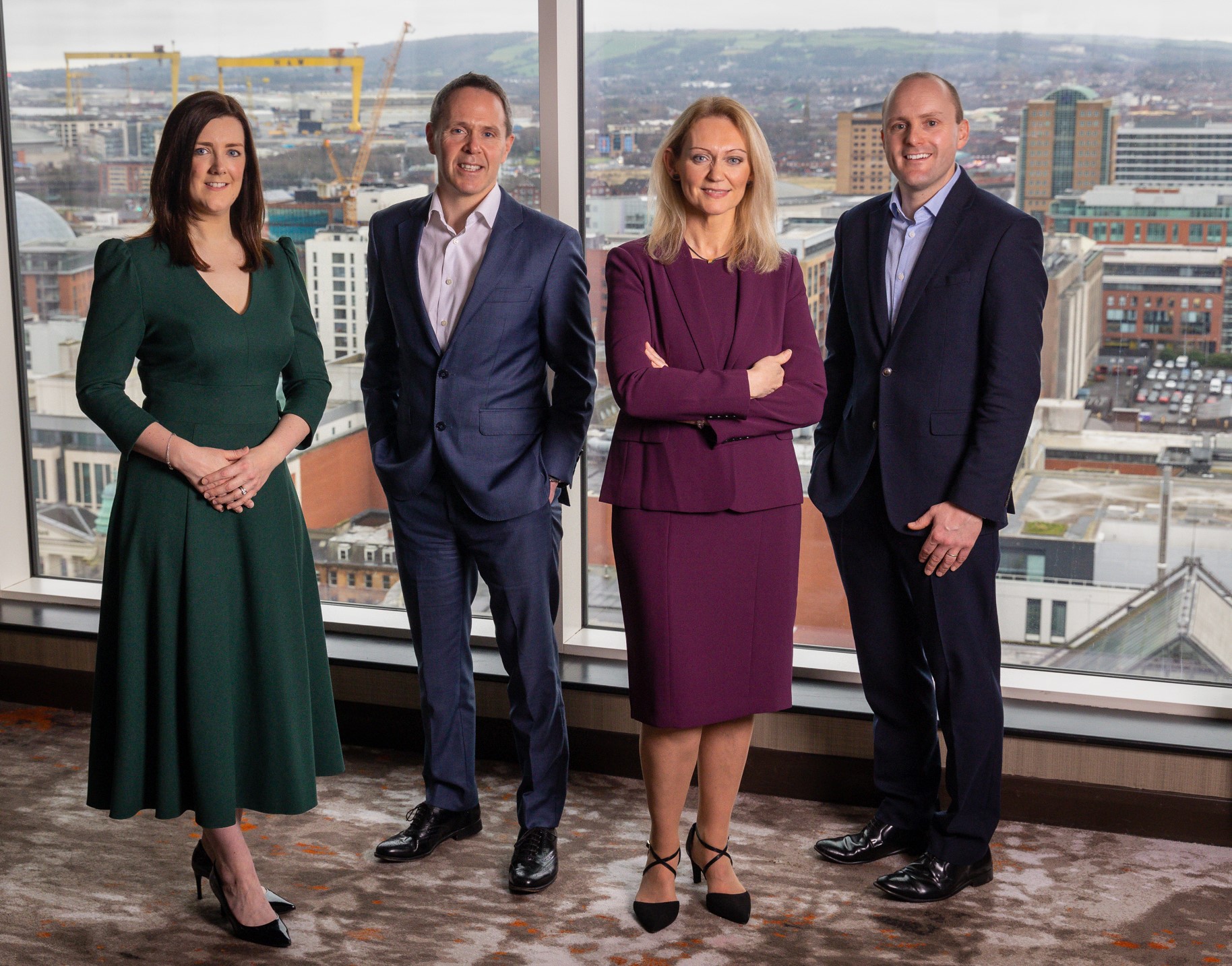 Photo caption:
(L-R) Sarah Dugdale, partner; Head of Belfast office Michael Neill; Of Counsel Shirley Blair; and John Tougher, partner.
Date Published: 15 March 2023.