ALG advises on ten 'Deals of the Year 2019'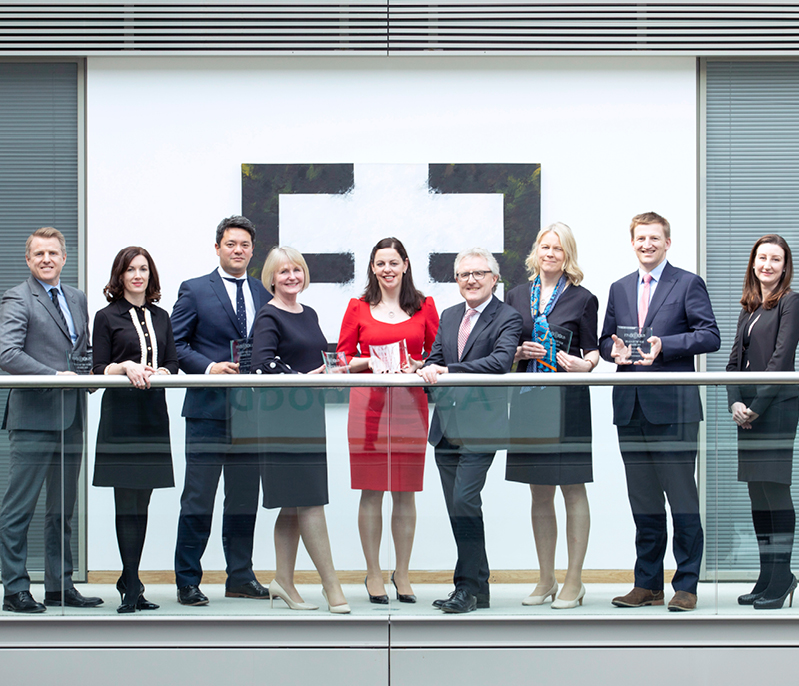 Pictured L-R: Mark Ward, Head of M&A; Maireadh Dale, Partner, Finance; Matt Cole, Partner, Corporate and M&A, Catherine Duffy, Head of Aviation & Transport Finance; Marie O'Brien, Partner, Aviation Finance; Gearoid Stanley, Partner, Finance; Niamh O'Sullivan, Head of Commercial Property; Charlie Carroll, Partner, Corporate and M&A and Amelia O'Beirne, Partner, Tax.
A&L Goodbody advised on ten of the winning 'Deals of the Year 2019' published by Finance Dublin. These 'winning deals' showcase the firm's specialist financial services legal expertise across the full range of banking and finance transactions. Our role on these 'winning deals' reaffirms A&L Goodbody's position as a leading advisor on the largest, most complex financing transactions for Irish corporates.
Over 150 deals were entered, covering a broad range of corporate finance and IFS activity, reflecting the continued growth in the Irish economy and more specifically in the corporate finance sector. The scale and complexity of the winning deals underpin Ireland's strength in this key sector as well as strengthens Ireland's position in the international market.
The winning categories and deals on which A&L Goodbody advised include:
Mergers & Acquisitions
NJJ acquisition of eir
Equity Capital Markets
Yew Grove REIT plc IPO
Osmotica Pharmaceuticals IPO
Debt Capital Markets
Barclays acquisition and securitisation of BoSI mortgages
First Citizen Irish Auto Receivables securitisation arranged by Deutsche Bank
Loans & Financing
Starwood's acquisition of a controlling stake in Urbeo Residential Fund ICAV
Financial Services
CALC establishment of CAG Sidecar
Debut MREL bond issue for AIB Group plc
Elm Corporate Credit Fund; DunPort Capital Management DAC
FBD Insurance subordinated bond arranged by Goodbody Stockbrokers
Speaking about the NJJ acquisition of eir deal which won Mergers & Acquisitions Deal of the Year, Charlie Carroll (Corporate M&A Partner) said:
"A&L Goodbody was delighted to represent NJJ alongside Paul Hastings LLP in the successful completion of this transaction. The acquisition was a transformational deal for eir and entailed complex and novel elements, including a bespoke matrix of regulatory, corporate and structural solutions."
Speaking about the winning Financial Services – Senior Debt, Banking Deal of the Year, Adrian Burke (Finance Partner) said:
'The transaction was significant because it was one of the first issuances of its kind by the holding company of an Irish bank. It constituted a very significant part of AIB Group's minimum requirement for own funds and eligible liabilities (MREL) for regulatory capital purposes."
Date published: 31 May 2019