ALG announces three new partners in Belfast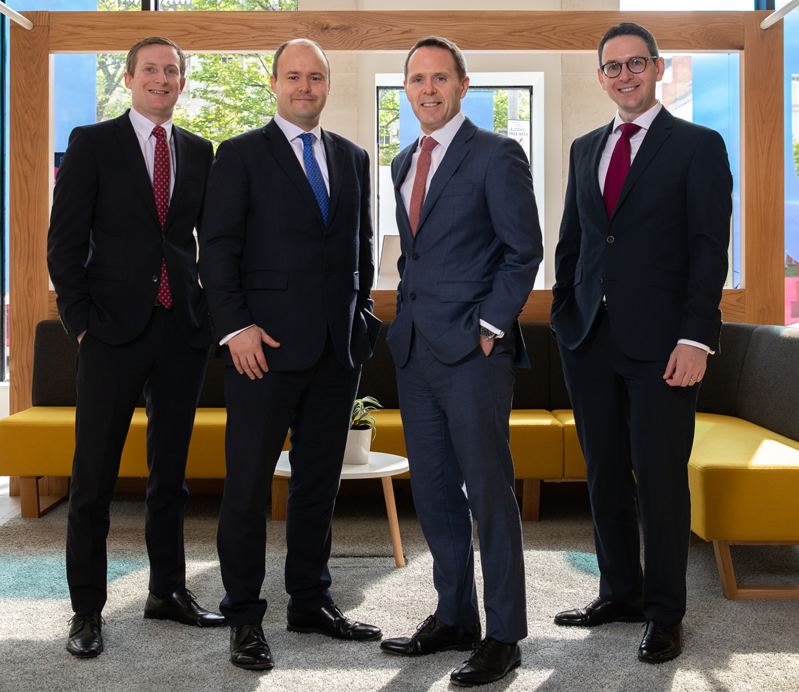 Pictured L-R: Sam Corbett, David Rowan, Michael Neill and Mark Stockdale.
A&L Goodbody (ALG) has announced the appointment of three new partners to its Belfast office.
Mark Stockdale and David Rowan have both been promoted to partner in the Corporate and M&A department, while Sam Corbett has been made a partner in the Restructuring and Insolvency team, bringing the total number of partners at ALG's Belfast office to 16.
Michael Neill, Head of A&L Goodbody's Belfast office, said:
"These senior-level appointments come in response to the firm's ongoing growth and success in Belfast and reflect our confidence that this will continue in the future. As well as technical expertise, our clients demand energy, fresh thinking and innovative ideas from our solicitors, and Mark, David and Sam certainly adhere to this. We are privileged to have such great talent across our team of over 120 high-quality lawyers and business support professionals in the Belfast office."
Mark Stockdale has expertise within the energy sector and is one of the leading experts on energy regulation in Northern Ireland. He has extensive experience advising on large scale infrastructure projects particularly in the natural gas and renewables sectors.
David Rowan has a particular focus advising local and international businesses on mergers and acquisitions, leveraged and management buyouts, group reorganisations, strategic investments, and commercial contracts.
Sam Corbett specialises in all aspects of business recovery and insolvency related matters and has extensive experience acting for local and national banks, financial institutions, funds, creditors and insolvency practitioners. In recent years, Sam has acted on a number of high-profile corporate restructurings in Northern Ireland.
Three new associates have also been promoted at ALG's Belfast office. Niamh Laverty and Richard McLean have both been promoted to associate in the Property team, and Nikki Stewart has become an associate in the firm's Corporate and M&A department.
ALG has appointed 11 new partners in total – three in Belfast and eight in Dublin. This is the largest number of partner appointments that ALG has made at one time which brings the total number of its partners to 104. ALG has also appointed three lawyers into a new role – Of Counsel – as well as 27 new associate solicitors across its Dublin, London and Belfast practices.
Commenting on the new appointments, Julian Yarr, managing partner at A&L Goodbody, said:
"In a fast moving and dynamic market it's really important that we help our clients thrive. I'm confident that our newly promoted partners and senior lawyers can do that by combining deep specialist technical knowledge with broader executive and business skills honed through our award winning ALG School of Business & Law."
Date published: 20 June 2019