ALG advises on 16 Finance Dublin 'Deals of the Year 2022'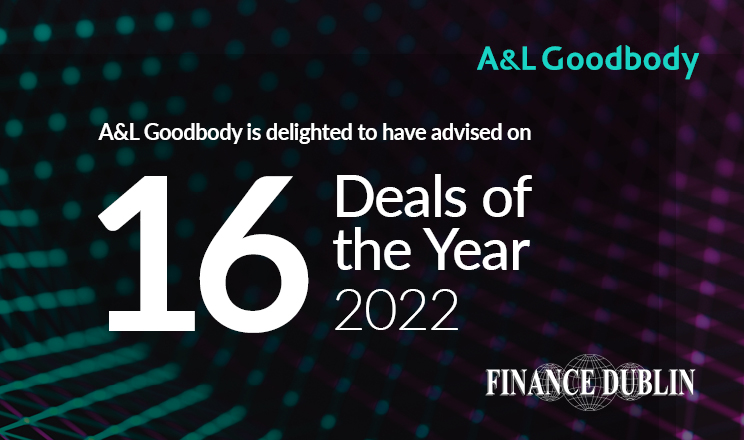 A&L Goodbody (ALG) advised on 16 of the winning 'Deals of the Year 2022' published by Finance Dublin. The annual review of M&A deals recognises best in class Irish corporate finance deals.
2021 was an exceptional year for financial and M&A transactions. This is reflected in ALG being involved in 16 of the 42 listed across six different categories – highlighting our broad legal expertise. We are delighted to have been recognised as a leading advisor on some of the largest, most complex and innovative financing transactions in Ireland.
The winning categories and deals on which ALG advised include:
Aviation Finance
Aviation Finance Loans ABS: Stonepeak
Aviation Finance Restructuring: Norwegian Air Irish Examinership
Debt Capital Markets
RMBS Securitisation: Project Sapphire - Fastnet Securities 16 DAC and Fastnet Securities 17 DAC
Structured Finance: Project Iris underperforming loans portfolio
Equity Capital Markets
ECM SPAC: Bosch as 39% shareholder in ADS-TEC Energy GmbH
IPO, Ireland: HealthBeacon IPO
Irish Scheme of Arrangement: Strongbridge Biopharma plc acquisition by Xeris Pharmaceuticals plc
Financial Services
Banking: AIB acquisition of Goodbody Stockbrokers
Domestic Capital Markets: Davy Group Disposal
Fintech: Fenergo Group Ltd's acquisition by Astorg and Bridgepoint
Loans & Financing
Development Financing Package: SIRO joint venture between Vodafone and ESB
Refinancing: Ornua
Mergers & Acquisition
Life Sciences: ICON plc's acquisition of PRA Health Sciences
Joint Venture, Public Sector: FuturEnergy Ireland
M&A Deal of the Year: Aercap acquisition of GECAS
Public Equity: CD&R Acquisition of UDG Healthcare plc
Speaking about the winning M&A deal 'CD&R Acquisition of UDG Healthcare plc' David Widger, Managing Partner, said:
"We were very pleased to work with the team in UDG Healthcare on its acquisition at a £2.8bn valuation by CD&R. UDG Healthcare, a long term client of A&L Goodbody, successfully developed into a leading healthcare service provider though organic growth and acquisitions, and this transaction saw its shareholders ultimately realise a 37% premium to the undisturbed 6 month average share price."
Speaking about the winning Aviation Finance deal 'Stonepeak' Maria McElhinney, Aviation & Transport Finance partner, said:
"We were pleased to work on this complex and innovative transaction, being the aviation sector's first broadly syndicated aircraft loan securitisation. The success of Stonepeak will undoubtedly be attractive to others looking for new ways of financing within the aviation sector."
Speaking about the winning Loans & Financing deal 'SIRO joint venture between Vodafone and ESB' David McElroy, Energy, Infrastructure & Natural Resources senior associate, said:
"We were delighted to support the European Investment Bank on the provision of a debt facility to SIRO Limited to assist with the expansion of its fibre-to-the-home broadband network. This transaction was key in driving on Ireland's knowledge economy, allowing more homes and business to access high quality, high speed broadband."
Date published: 31 May 2022