YOUR JOURNEY STARTS HERE
At A&L Goodbody, graduates have the opportunity to shape their legal career by participating in some, or all, of our three dedicated programmes. Through working on large scale, award winning, international deals, you will have the opportunity to thrive in a fast paced environment. Supported with a structured development programme, you will develop the skill set and commercial acumen to become the next generation of top international lawyers.

TOUR OUR OFFICES
The right working environment is an important factor in choosing where to train to become a Solicitor.
Let our Trainee, Adam Assahli, take you on a tour of our state of the art head office in Dublin's IFSC.
Take the Tour

TRAINEE SOLICITOR PROGRAMME ONLINE APPLICATIONS
Dublin - process closed on 21st October 2016.
Belfast - process closed onl 23rd January 2017.

SUMMER INTERN PROGRAMME ONLINE APPLICATIONS
Dublin - Applications closed on 17 February 2017.

TRAINEE BROCHURE
Find out all you need to know about our Trainee Solicitor Programme in Dublin.
Download our Trainee Brochure

INSIDE BUZZ
Hear what our Trainees have to say in the gradIreland job survey.
Read Survey Results

MEET OUR TRAINEES
Our insights give you a better understading of what to expect as a traine at A&L Goodbody.
Find out what our current Trainees have to say about their experience.
Read More

LAWSTART APP
Our Download our LawStart App from iTunes or from Google Play to stay informed of future firm events and deadlines throughout our recruitment process.

BOLD IDEAS AWARD
A&L Goodbody's Bold Ideas Student Innovation Award is our annual competition recognising the most innovative ideas from undergradutate and postgraduate students across all disciplines.
Read More
YOUR JOURNEY STARTS HERE
At A&L Goodbody, both undergraduates and graduates have the opportunity to shape their legal career by participating in some, or all, of our three dedicated programmes. Through working on large scale, award winning, international deals, you will have the opportunity to thrive in a fast paced environment. Supported with a structured development programme, you will develop the skill set and commercial acumen to become the next generation of top international lawyers.




TOUR OUR OFFICES

The right working environment is an important factor in choosing where to train to become a Solicitor.
Let our Trainee, Adam Assahli, take you on a tour of our state of the art head office in Dublin's IFSC.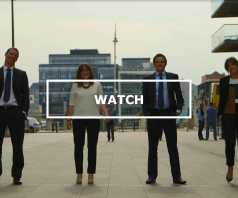 WHY CHOOSE A&L GOODBODY
Expect to work with teams of talented individuals in a friendly and
open environment.