ALG appoints five new partners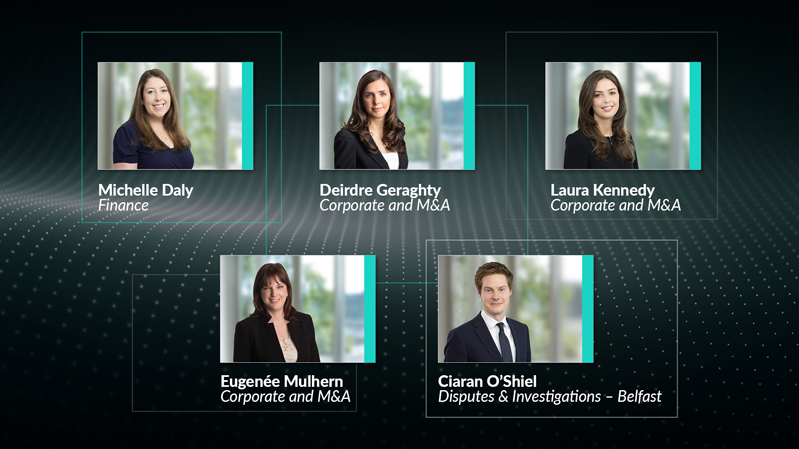 A&L Goodbody LLP (ALG) is to appoint five new partners (four in Dublin and one in Belfast) and one new of counsel. These appointments are effective from 1 January 2022.
The new partners are: Michelle Daly (Finance, Dublin), Deirdre Geraghty (Corporate and M&A, Dublin), Laura Kennedy (Corporate and M&A, Dublin), Eugenée Mulhern (Corporate and M&A, Dublin) and Ciaran O'Shiel (Disputes & Investigations, Belfast). The new of counsel is Chris Martin (Financial Regulation, Dublin).
These five partner appointments are in addition to two recently appointed new partners – Chris Bollard (Commercial & Technology, Dublin) and Aisling Byrne (Employment, Belfast).
Commenting on the appointments, Julian Yarr, Managing Partner at ALG, said: "Congratulations to our new partners and of counsel. Each of them is incredibly talented and a recognised leader – both with our clients and in our firm. Their diversity of skills and experience will enhance our culture and ensure our continued success and growth.
"As we emerge from the shadow of COVID-19, it's clear that the world is a different place. The dynamism and agility we need to display for our clients and our people has moved up a gear. We have invested heavily in developing well-rounded lawyers who have the ability to anticipate and adapt to the changing needs of our clients. These new partners and of counsel are the result of this investment as we continue to build the law firm of the future, now."
Date published: 15 October 2021