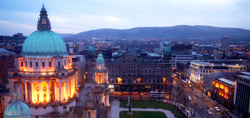 A&L Goodbody's Belfast office is a leading corporate law Firm in Northern Ireland (NI), advising the domestic and international business community. This market position is particularly evident from the instructions received to advise on some of the most significant and complex transactions. Leading international publications also rank A&L Goodbody's Belfast office at the top of its market. In January 2014 the firm was once again awarded 'Corporate M&A Firm of The Year 'for Northern Ireland by Experian Corpfin and in March 2014 the firm was awarded the much coveted 'Corporate Law Firm of the Year' by Insider for the second year running.
A&L Goodbody is uniquely positioned in Northern Ireland from the combination of local market leading expertise and knowledge with the strength and depth of resources of a law firm, which is internationally recognised to be of the highest quality available.
The combined Belfast and Dublin teams, along with colleagues in offices in London, New York, San Francisco and Palo Alto offer a fully integrated service across the island of Ireland. The office provides a comprehensive range of services to clients across various legal disciplines, in particular:
Find out more information on career opportunities in our Belfast office.
View contact details for the Belfast team.
Address & Contact details:
A&L Goodbody
42/46 Fountain Street
Belfast BT1 5EF

E: belfast@algoodbody.com
T: +44 28 9031 4466