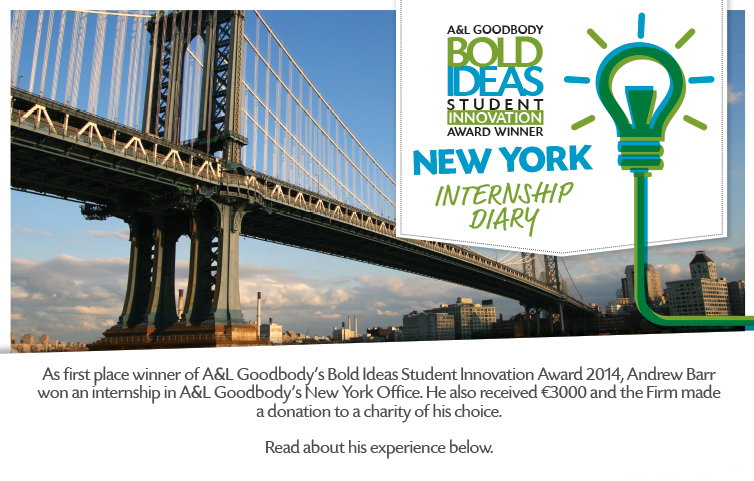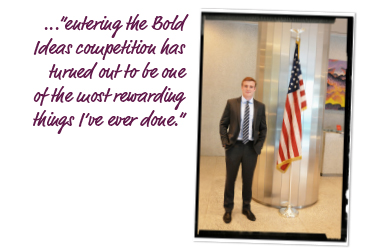 Day 1 – Sunday, 13 September 2015
My first day in New York was absolutely fantastic. When I arrived at my hotel, I was greeted with a welcome pack from A&L which included a New York City Pass, which enabled me to visit some of the city's best attractions for free. I began the day at the United Nations Headquarters and was incredibly historic. I then went to the top of the Empire State Building, which was like nothing that I have ever done before, the views were outstanding. I then got the subway back to Midtown to visit the Intrepid Sea, Air and Space Museum where I got to see the space shuttle Enterprise along with the various antique war planes and submarines that were on display. Finally I went to the Natural History museum, which seemed fitting given that my Bold Ideas Competition winning proposal was to build a partnership model between private enterprise and Ireland's National Parks and Wildlife Service. Being here I've realised that entering the Bold Ideas competition has turned out to be one of the most rewarding things I've ever done.





Day 2 – Monday, 14 September 2015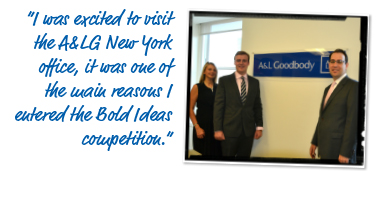 My first day in the office was a very interesting experience. I was excited to visit the A&LG New York office, it was one of the main reasons I entered the Bold Ideas competition, but I had always imagined that it would be a standard office in a standard building. I discovered that the office is located in the Chrysler building. The Chrysler building is the fifth tallest building in New York and was formerly the tallest building in the world; it is an unmistakeable part of the New York City Skyline. The office is located on the 33rd floor and my ears pop going up the elevator. When I arrived I was greeted by Siobhan O'Sullivan, the office manager. I also met Lyndsey Falconer, the resident associate. She briefed me on the kind of work carried out at the New York office. It was great to understand another angle to the corporate work that I would have done at the Dublin office in July. Tomorrow we are all going for lunch with Alan Casey the resident partner.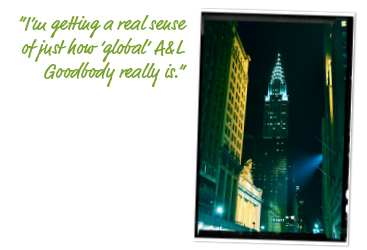 Day 3 – Tuesday, 15 September 2015
My third day in New York was fantastic. The team very kindly took me out to lunch to a place called Café Centro - a real New York cultural experience. We had a good discussion about life in New York and it was great to hear Alan's perspective about carrying out business in the city. Afterwards, Siobhan, the office Manager took me on a tour of the Chrysler building. Unlike the Empire State and the Rockefeller Centre, the Chrysler building is not open to the public. However, the top floor happens to be used by a dentist which Siobhan uses (known as "The Dentist in the Sky"), and as a result she was able to take me up to the top of the building. The office was quite obviously like no dentist that I've ever seen before and it offered unique views of the city and I really felt privileged to be there.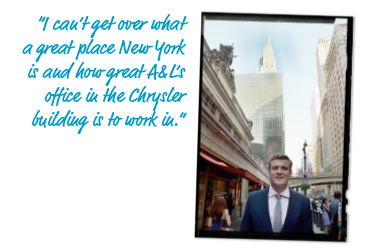 Day 4 – Wednesday, 16 September 2015
On my fourth day in New York, I really feel like part of the furniture. I can't get over what a great place it is and what a great place A&L's office in the Chrysler building is to work in. Today was great, Siobhan took me out again after lunch. We visited the famous New York sites including Bryant Park, the New York Public Library and Grand Central Station. I felt like I'd been there before as I've seen it in so many films and on TV. They are all in close proximity to the office.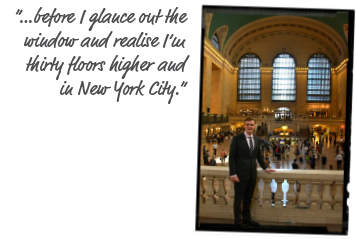 Day 5 – Thursday, 17 September 2015
Well, my days in New York are drawing to a close. I really am going to miss the view from the office here. Every time I get absorbed into the work I feel like I could be right back on floor 3D with my old corporate team, before I glance out the window and realise I'm thirty floors higher and in New York City. It is very easy to get used to the warm climate here at this time of the year and I'll certainly be in for a shock when I arrive home to Ireland.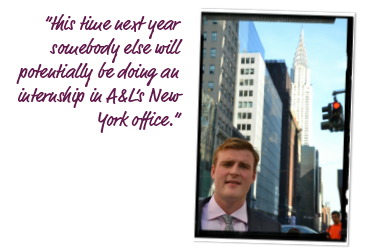 Day 6 - Friday, 18 September 2015
The last day in the New York Office has come and gone and I'm all packed up and ready to go home. The Bold Ideas competition has been a thoroughly enjoyable experience and this time next year somebody else will potentially be doing an internship in A&L's New York office, if not in California or London! The last day at work was great, I got some photos with Lyndsey and Alan before being let out early for a last chance to see a bit more of what New York has to offer and get myself packed for my flight home tomorrow. I'm very sad thinking that I won't be eating any more Pretzels for the foreseeable future, never mind the reality check I'll get in Ireland when I'm back into college on Monday morning.

It's been a fantastic journey, and I'd like to thank A&L Goodbody for considering my idea, looking after me at the office and organising this fantastic trip for me, it's been a wonderful experience and I can't wait to hear what great idea wins it next year.

For information on how to enter this year go to our Bold Ideas Student Innovation Competition page.